UFV Connect Online Business Directory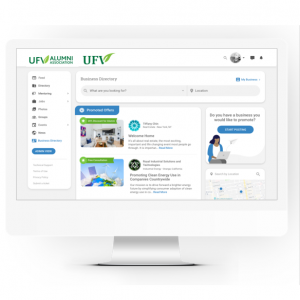 Our evolving reality continues to call for changes in how we do business and now, more than ever, we are seeking new ways to engage our alumni. With so many of us spending so much more time at home, the need for community support has never been greater. As such, UFV is excited to launch our new Business Directory to support to alumni businesses during these challenging times. UFV Connect gives users an exclusive space within our engaged network of over 42,000 alumni to promote their businesses and services, both in the Fraser Valley and beyond.
UFV Connect is an online repository of UFV alumni-owned businesses, administered by the UFV Alumni Relations Office, to connect and promote businesses among the alumni population. A free-to-use user-friendly platform where alumni may list, promote and incentivise their business offerings to other UFV alumni, supporting each other both locally and beyond. The first part of a wider engagement strategy, more exciting features will be rolling out over the next year. Stay tuned!
UFV Connect offers the following benefits:
easy business posting using a prompted, online form
ability to offer special benefits and incentives to other platform users
search by free text, category or location for other business that you may be able to support
integrate with other social networking platforms such as LinkedIn
synchronous – a globally accessible opportunity for alumni all over the world
Get on board with UFV Connect today and help support UFV alumni businesses.
Business owners – simply complete the prompted, online registration form with your basic business information. At no cost to you, you've got nothing to lose and everything to gain from connecting with and supporting other like-minded, business savvy UFV alumni. To find out more, please watch this video now.
Supporters – check out what our alumni businesses have to offer. Support other members of our network who need it now more than ever.
Register by clicking on the "Join Now" button at www.ufvconnect.ca  Once registered, you will be taken to the Business Directory.