Keeping in Touch — Dr. Judy Larsen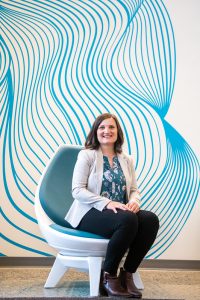 Dr. Judy Larsen (BSc '08) of UFV's Upgrading and University Preparation department has always taken the atypical route when it came to teaching mathematics and mathematics education courses. 
Guided by principles of the Building Thinking Classrooms framework, her classes are known to be a little loud, messy, and full of students out of their seats and standing at whiteboards immersed in discussion and engagement. Collaboration is required, creativity is encouraged, and problem-solving is inevitable. It's this ability to be flexible, inventive, and nimble that has made her one of UFV's most effective and engaging professors. Two years after earning the D2L Innovation Award in Teaching and Learning, she has been named the 2022 UFV Teaching Excellence award winner.
Share This