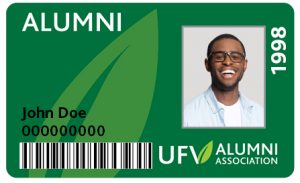 When you graduate from UFV, you automatically become a member of the UFV Alumni Association. To take full advantage of the perks and privileges available to Alumni Association members, you'll need to apply for your personalized photo ID membership card.
How to apply for your alumni card
In-person
Visit the Campus Card office at the new Student Union Building, Room S1101 on the Abbotsford campus to get your photo taken and have your card printed immediately.
From off-campus
Unable to get to Abbotsford during regular work hours? Submit the online Alumni card application form along with a photo and proof of ID to request your membership card. Your membership card will be printed and mailed to you.
Legal name change on your alumni card
If your name has been legally changed since you graduated and you would like your alumni card issued in your new name, complete a change of name request.
Take the completed form to the Office of the Registrar, along with the required proof of ID. Indicate that you are changing your name and your record will be updated immediately. You will then be able to get your membership card printed at the Campus Card office.
You may also scan the completed change of name form and submit it with your online membership card request if you do not live locally.
Replacement cards
Replacement cards are issued to the cardholder only. You can apply online and in person at the Campus Card Office, building S, room 1101 on the Abbotsford campus. 
Questions?
Email alumni@ufv.ca or call the Alumni Relations office (604) 557-4008