Affinity Program Offers
Great offers and discounts, and each partner gives back to the UFV Alumni Association.
Amazon.ca
Order through Amazon.ca, and Amazon will donate 2.5% to 11% back to the UFV Alumni Association.
BMO Mastercard
Help the University of the Fraser Valley support a rich program of events and services for students and alumni. After getting the BMO University of the Fraser Valley MasterCard, every time you spend on it, you help generate revenue to the University of the Fraser Valley Alumni Association to support these activities. Check out the non-student options here, or for the student in your life see the SPC Mastercard options, which offers discounts and no annual fee!
Contact alumni@ufv.ca for more information regarding these benefits.
Sandman Hotels
Sandman Hotel Group is the official hotel of the UFV Alumni Association, offering discounted Silver rates to all UFV staff, faculty, alumni and visitors booking rooms at the Abbotsford and two Langley locations.
Silver rates include:
Late check-out privileges
Free internet access (wired & wireless) in rooms as well as business centres at all locations
Free upgrade (based on availability)
Free morning newspaper
Free local calls
For each night booked the Sandman Hotel gives 10% back to the UFV Alumni Association in support of student awards.
Call 1-800-SANDMAN or book online using promo code "UFV" when making your booking!
Studio B Yoga
UFV alumni enjoy discounted rates on yoga at Studio B Yoga & More, located in Chilliwack. Alumni receive 15% off regular priced class passes and unlimited membership. Alumni can also access the monthly rate of $79 a month on auto-pay. Please show your Alumni Membership Card to take advantage of these discounts.
TD Insurance Meloche Monnex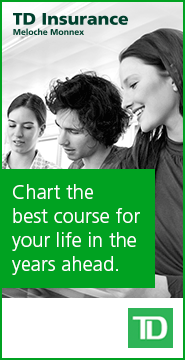 Save more with TD Insurance
We are pleased to announce a new agreement with TD Insurance. As a graduate of the University of the Fraser Valley you have privileged access to the TD Insurance Meloche Monnex program, which provides savings through lower preferred insurance rates. Plus, by choosing TD Insurance you also give back. Our program contributes to the University of the Fraser Valley every year, so while you benefit from savings, you will also be supporting your alma mater.
Get preferred group rates on your home insurance and save.
TD has been serving thousands of alumni like you for more than 65 years. They would be pleased to count you among their many satisfied customers.
Ask one of their insurance experts to help you explore all your coverage options and help you select the level of protection that best suits you by calling 1-888-589-5656 or click here for more information and find out how much you can save.