UFVAA x BCAMA presents Shared Marketing Insights + Meet & Greet
NEXT GENERATION MARKETERS: How Modern Marketers Are Staying Ahead Of The Ever-Changing Marketing Landscape
January 24

Evered Hall, Middle Section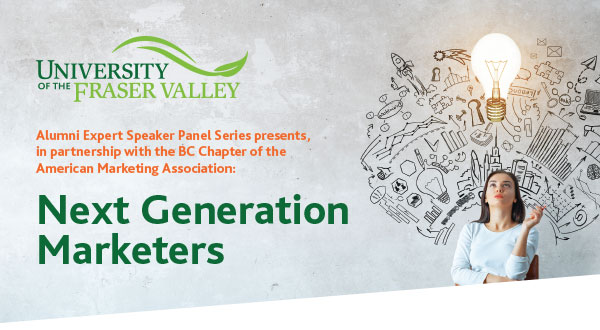 Marketing evolves with the technology and demands of each generation. New generation customers are more tech-savvy than ever and take into consideration how companies behave with microscopic vision. Focusing marketing efforts on how next-generation customers are interacting with companies and how they communicate with these companies is important to keep top-of-mind.
Join us on January 24th, 2019 at the University of the Fraser Valley as our five experts will explain how today's leading marketing teams are adapting to these trends for the present, future, and next generation. You will learn how their teams are challenging the status quo and which trends are most important to keep an eye on and why.
This event is being co-hosted by the UFV Alumni Association & the BC Chapter of the American Marketing Association (BCAMA)
Thurs Jan. 24
Evered Hall, Middle Section
Event Schedule
5:30pm: Registration & refreshments
6:00pm: Panel discussion & Q&A
7:15pm: Networking & refreshments
Registration information
This event is free for UFV students, UFV alumni, UFV staff & faculty and BCAMA members.
Alumni, students, staff, and faculty – register here
For guests, tickets are available for $15 – purchase your ticket
Guest Panelists: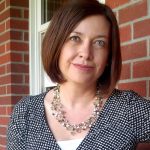 Laura Authier
Director of Marketing
University of the Fraser Valley
Laura Authier is the new director of marketing at the University of the Fraser Valley. She has more than a decade of experience in education marketing, most recently at St. Michaels University School in Victoria. Laura also has extensive experience in the advertising and technology industries, working at the Calgary agency Parallel Strategies, tech giant Hewlett Packard, and Victoria-based IT service provider MYRA Systems.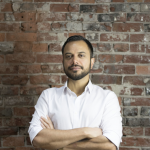 Mo Dhaliwal
Director of Strategy
Skyrocket Digital
Mo began his journey at the University of the Fraser Valley studying business administration. Over the course of a decade, his long standing passion for technology, and his hunger for new experiences led him to Silicon Valley where he honed his talents in software development and digital marketing. He returned to Canada with a newfound appreciation for the cultural diversity found in his home, and set out on a personal mission to shatter barriers and encourage cross-cultural understanding.
An ability to connect cultures and disrupt the status quo is reflected in Mo's aptitude for connecting clients to their audiences and bringing new ideas to fruition. As Director of Strategy at Skyrocket, Mo collaborates with creative minds across the globe and continues to create moving experiences for clients and community.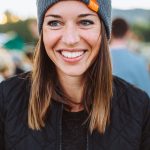 Ashley Duret
Brand Manager
Field House Brewing Co.
Ashley has a background in graphic design, a love for branding, and a desire to work collaboratively on projects with creative and like-minded people. She has been the Brand Director at Field House Brewing since their opening in 2016, working on everything from the marketing to events to packaging.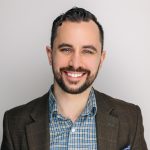 Darian Kovacs
Managing Director
JELLY Marketing
Darian brings over 15 years of experience in marketing, communications and public relations. Throughout his career, he has also been a founder and board member of various foundations and charitable organizations. Through his award winning company, Jelly Marketing, Darian has worked with various local, national and global brands building and executing on their digital & PR strategy. He's been featured in BC Business magazine, Business in Vancouver and on the Canada Post training circuit. He is currently a marketing professor at Trinity Western University, a contributor with Small Business BC and Shaw's recent Business Resource Centre on topics of Social Media and PR. Being both an educator and practitioner, Darian's mix of stories, practical examples and takeaways leaves audiences feeling inspired and equipped to implement social media and PR strategies into their organizations.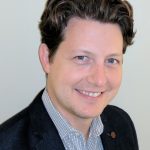 Serge Léger
Vice-President, Marketing & Member Innovation
Prospera Credit Union
Serge joined Prospera in 2017 as Vice President, Marketing & Member Innovation bringing with him over 15 years of financial industry experience in a variety of strategic and leadership roles. Serge's journey in financial services started as a teller and progressed to the role of Head of Strategy for Retail Banking and Wealth Management at HSBC. He has extensive experience in business strategy, customer value proposition, product management, profit/loss management, digital strategy and omni channel distribution. He obtained his MBA from Saint Mary's University in 2004 and also holds a Bachelor of Commerce from Dalhousie University.
Moderator: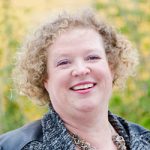 Kim Milnes
Associate Professor, School of Business
University of the Fraser Valley
Kim Milnes joined UFV in 2006.  She holds both a Masters of Business Administration and a Bachelor of Science in Applied Mathematics from the University of British Columbia.
Kim was a management consultant for almost 20 years employed by large firms such as Accenture and Telus, medium firms like Sierra Systems and small startups.  Her clients included a huge variety of businesses throughout B.C. Kim specialized in developing and implementing e-business solutions for her clients. In her second career in academia, she combines her extensive practical business experience (in areas such as e-marketing, e-business, change management, strategic management, and information technology) and her passion for teaching to create a unique learning experience for both her students and herself.
Share This