Alumni Open raises $32,000 for UFV students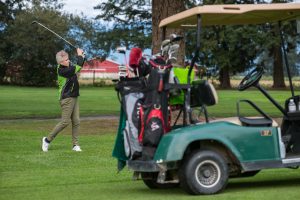 CHILLIWACK – Record amounts of money and memories were made at the 2018 UFV Alumni Open fundraiser golf tournament held at the Chilliwack Golf Club Sept. 14.
UFV Alumni Association Board of Directors Chair Nav Bains says the fourth annual event created an incredible connection between UFV students, alumni, and the greater Fraser Valley community.
"That money benefits UFV students through our Leadership & Bursary endowments, so I couldn't be more proud to stand side by side with my UFV Alumni Association Board of Directors, our UFV Alumni Relations office, UFV and our countless supporters.""With the support of our diverse sponsors, friends, students, alumni, faculty and staff of the University of the Fraser Valley, we were able to raise more than $32,000, the most from a single tournament to date," he says.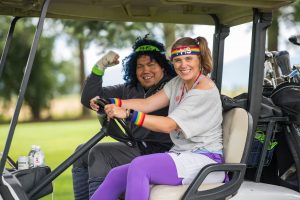 UFV Alumni Relations manager Whitney Fordham adds proceeds from this year's tournament will also fund additional scholarship and bursary awards for students, each year in perpetuity.
"This truly is a gift that keeps on giving," she says.
"The Alumni Open is my favourite day of the year, because it brings together a diverse crowd who all believe in the mission of our university. We have such a great group of loyal golfers, sponsors and volunteers who return each year to help make this such an incredible success."
Special thanks to the following 2018 event sponsors:
Presenting sponsor: UFV
Platinum sponsors: Save on Foods, Abbotsford News & Chilliwack Progress
Plans are already underway for next year's special fifth anniversary Alumni Open on Sept. 13, 2019.
Share This