Fraser Valley mountains inspire stylized, graphic representation
UFV alumnus' graphic design work featured on commemorative wine labels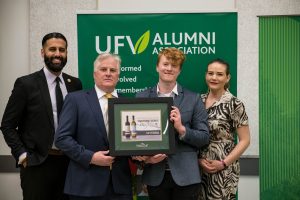 Our mountain views define the Fraser Valley.
Mt. Baker looms on the horizon over much of Abbotsford and parts of Mission. On a clear day, the view is majestic. The mountain may be in America, but the view is Canadian.
People in Chilliwack and Agassiz look to Mt. Cheam to the east, towering over farms and subdivisions.
These iconic mountains are represented on the labels of the 2018 University of the Fraser Valley Alumni Commemorative Wine bottles.
Colton Floris, a 2015 graduate of the UFV Graphic + Digital Design program, was inspired to portray the mountains because of their visual impact on the Fraser Valley.
His version of them is a stylized, graphic representation.
"A benefit of having gone through the Graphic + Digital Design program is that we learn a more stylized, uncluttered way of presenting an image. I gave them a simplified, clean look, using a limited colour palette that pulls from the sky at different hours of the day."
He was inspired to draw mountains for the label using Photoshop after working on a few other projects with a natural setting.
"My biggest inspiration is how the changing seasons or hour of the day affect how we perceive the landscape. Seeing a mountain lit up in an evening glow or on a crisp clear morning can make it feel like you're looking at it for the first time."
Colton lives in the rural neighbourhood of Arnold, nestled between Chilliwack and Abbotsford, and enjoys a variety of mountain views in his daily routine.
He works as a graphic designer for the Canadian Conference of Mennonite Brethren Churches, and also has several freelance clients. See his work at http://www.coltonfloris.com/
This year UFV is offering two select wines for the Alumni commemorative wine: the 2015 Valley Cab and the 2017 Pinot Gris, produced by Chaberton Estates of Langley.
"As we enter the 14th year of the program, we are delighted to be renewing our partnership with Chaberton Estate winery," said Alumni Relations manager Whitney Fordham. "The Alumni commemorative wine is a highly anticipated annual tradition at UFV."
The commemorative wine is purchased as graduation gifts, memorabilia, prizes, and for enjoyment by UFV faculty, staff, students and alumni, and at community gatherings. The wine can now be purchased through the Alumni Relations office.
The wine honours the graduating class and is sold throughout UFV communities as a fundraiser for the Alumni Association's student monetary awards and activities. At the launch event each spring, the wines are unveiled and the winner of the artist competition is announced. It's one of many Alumni Association initiatives and an amazing opportunity for connecting with the UFV community and celebrating the achievements of their alumni.
Order your 2018 Commemorative Wine here.
Share This