Mentoring the next generation of community difference-makers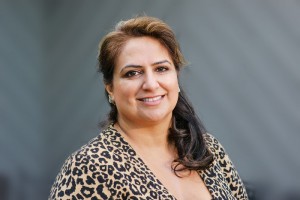 UFV alumna Kelly Chahal, a probation officer and Abbotsford City Council member, remembers what it was like just starting out in a career.
"I had the opportunity to have someone guide me in a probation office when I was a student and I recall how nervous and frightened I was," she says. "Having a mentor helped me feel more comfortable and built my confidence so that I was able to feel my education was going to help me secure a job in the field."
Today, Kelly is a leader in the criminal justice field who often guides UFV students or new alumni as they venture into their careers. "They were able to get first-hand experience in client interviews, case management, court protocols and processes," says Kelly.  "While at Abbotsford Community Services, I used to also mentor students who were studying social work in the area of multicultural family services, immigrant settlement, and counselling services."
As a proud Indo-Canadian, she has hosted UFV classes on visits to the Sikh temple to foster better understanding. As a dedicated community volunteer, she encourages other UFV alumni to put their names forward for committees and volunteer opportunities. "This builds confidence, provides opportunities for learning, and allows them to build their resumes," she says.
"I mentor because I want to help others and let them experience working in a field they are studying in without fear and apprehension.  I feel a sense of connection with students and it's great when I see how they are excited to take on challenges of learning and that I am part of the process. When you see the outcome it makes the effort worth it."
Kelly Chahal was named one of UFV's Top 40 Alumni in 2014.
Share This