2018's Commemorative Wine unveiled
Celebrating fourteen years of UFV alumni tradition
ABBOTSFORD – 2018 marks the fourteenth year of the UFV Alumni Association commemorative wine, a unique tradition within the alumni community. Each year two limited edition wines are produced to celebrate the graduating class with labels designed by UFV alumni artists. This year's launch was held April 26, 2018, in conjunction with UFV's PD Day, where Nav Bains, Chair of the Alumni Association, unveiled this year's wines and the winner of the wine label artist competition.
The winning artist is alumnus Colton Floris (GDD '15). Floris, a 2015 graduate of the UFV Graphic + Digital Design program, was inspired to portray the mountains because of their visual impact on the Fraser Valley.
His version of them is a stylized, graphic representation.
"A benefit of having gone through the Graphic + Digital Design program is that we learn a more stylized, uncluttered way of presenting an image. I gave them a simplified, clean look, using a limited colour palette that pulls from the sky at different hours of the day."
He was inspired to draw mountains for the label using Photoshop after working on a few other projects with a natural setting.
"My biggest inspiration is how the changing seasons or hour of the day affect how we perceive the landscape. Seeing a mountain lit up in an evening glow or on a crisp clear morning can make it feel like you're looking at it for the first time."
The 2018 commemorative wine is produced by the Chaberton Estate Winery. There is a 2015 Valley Cab and a 2017 Pinot Gris available for order. These limited edition wines make excellent graduation gifts, memorabilia, or prizes and proceeds go towards supporting the UFV Alumni Association.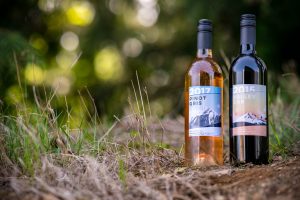 2015 Valley Cab
$22.00
Three different grape varietals from three vineyards were blended for this year's Valley Cab. This savoury red wine has been oak barrel aged with flavours of raspberry, cassis and vanilla. Enjoy with strong cheeses, red meat dishes and dark chocolate.
2017 Pinot Gris
$22.00
Grapes from Blind Creek Vineyard found in the Similkameen Valley (60%) and Stoneboat Vineyard from the Okanagan Valley (40%) were soaked for 19 hours. The whole berries were then pressed to extract the gorgeous coral color from the skin contact.  Aromas of candied fruit are joined by citrus notes and ruby grapefruit which build into a lasting tangerine finish. Enjoy with seafood or creamy pastas, poultry dishes and goat cheese dressed salads with a light lemony vinaigrette.
You can order your 2018 commemorative wine here. Available until March 2019.
To submit artwork for the 2019 label design contest, contact alumni@ufv.ca
Share This