Canada's best: Rare feat as two UFV accounting alumni score in top one percent of national CPA exam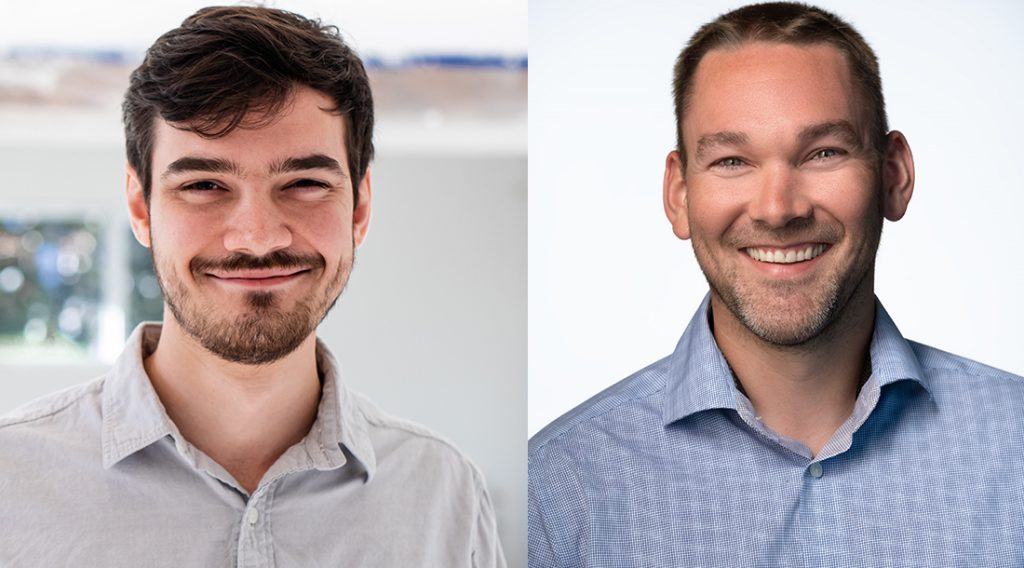 UFV alumni Warren Rossing and Caleb Steegstra were each summoned into their respective bosses' offices in early August. For aspiring Chartered Professional Accountants (CPAs) who make the prestigious honour roll, this is how Common Final Examination (CFE) test results are typically delivered.
Steegstra (BBA '20), a project accountant at Westbow Construction in Chilliwack, had been preparing for more than a year for the May 2022 exam, but was only able to take a week off work to study full-time. Rossing, also a BBA '20 graduate just four years removed from being a prison guard, had the simple goal of just passing.
Neither knew what to expect — the CFE is an intense three-day exam required to become a CPA. It's offered only twice a year, with more than 26 percent of participants failing.
"The exam is so challenging and you don't really know exactly what they're assessing and how they're assessing it," says Rossing, a finance officer at the Government of Canada.
While debriefing with his boss about the CFE results, Rossing not only learned he passed, but that he scored in the top one percent nationally. He also received the highest mark in all of BC, making him the class valedictorian. Meanwhile, Steegstra was informed by his boss and mentor, Jason Tiessen (CFO at Westbow), that he also made the national honour roll, finishing in the elite one percent as well.
That meant two UFV BBA accounting program alumni placed among the top 16 in a competitive field of more than 2,000 CFE writers across Canada. Only one other writer from BC made the 16-person honour roll list.
"This accomplishment is very rare," says Keith Lownie, associate professor, UFV School of Business, who also coached Steegstra in soccer as a youth. Lownie has taught CPA exam prep courses since 2003, and he estimates out of the 5,000 students he has helped prepare, only three or four have scored in the top 16. "CPA exams are hard. They require you to be both technically proficient in accounting but also have enabling competencies like critical thinking, decision-making and strong communication skills."
Steegstra said sharing the top one percent with Rossing made the achievement even sweeter.
"It was super cool to share this honour with Warren, we took a number of classes together at UFV and we were kind of just buds," he says. "Our accounting journeys are very similar. We were both working and going to school."
Steegstra started the UFV accounting program in 2015 as a way to build on his overall business operations skills while working first at HUB International, then Westbow. He credits the smaller classes, personal attention, and wide perspectives he received at UFV for his accounting foundation and preparation.
"There's a number of really great professors at UFV that helped me think differently and apply concepts in more meaningful ways," says Steegstra, who names Lownie, Lorne Mackenzie, and Mark Breedveld as his most influential business professors. "The business program itself set me up for success in both my career and CPA training."
Rossing's path to CFE excellence was not as linear. Speak with the gregarious Rossing for five minutes and it's clear he has an entrepreneurial spirit. He started off in finance, working as a business analyst for powerhouse banks like JP Morgan Chase before pivoting to entrepreneurship then making a complete 180 to an unlikely line of work.
"I was getting a little bit bored with the business and the finance side, so I ended up starting as a correctional officer and spent four years as a prison guard," Rossing says. "So, that was a bit of a turn, but I really enjoyed flexibility and the freedom of the schedule as well as working in government."
In 2016, a job posting at the Government of Canada for a financial officer became available. Ready to move on from being a prison guard, Rossing had relevant skills from his days in finance but needed a stronger footing in accounting. He got the position and started the accounting program at UFV not long after.
"UFV does a really good job giving accounting students the tools that will translate when we decide to pursue being a CPA," says Rossing. "The way that they teach us is always moving towards the bigger picture."
Both Rossing and Steegstra started preparing for the CFE in 2020 almost immediately after their UFV graduation. Rossing notes that the exam is a cumulative collection of accounting principles.
"You shouldn't take too much time off because the CFE exam will be that much more challenging if you need to dig back and remember, restudy, and refresh all of that older material," he advises.
Over two years, the pair individually plugged away at the preparation. They studied on nights and weekends, sacrificing hobbies and time with friends and family — which was especially difficult as both became first-time parents in 2020.
Becoming a CPA —  especially with honours — can have its perks. Promotions, more money, and new opportunities are common advantages of reaching the top of the class. Whatever comes from it, Rossing and Steegstra are proud of finishing among CFE writers in Canada. They are proud of their friendship and their UFV roots. But, most of all, they are relieved the exam is finally behind them.
"On a personal standpoint, I'm looking forward to more family time, more hobbies, more outdoors and more fun," Steegstra says.
"Because now I have more time for that."
Gerald Narciso on November 22, 2022 from UFV Today
Share This