Celebrating 15 years of commemorative wine
FRASER VALLEY – Happy 2019! This year marks 15 years since we launched our alumni commemorative wine, with distinctive, artistic label imagery by UFV alumni.
The alumni wine labels have been chosen through a contest since their inception. This year, the graphics team in University Relations (now Community Engagement) has designed special labels in honour of the 15-year anniversary. We have partnered with Chaberton Estates once again for our alumni commemorative wine, and we are also launching a UFV alumni beer this year, in partnership with Canuck Empire, which is founded and operated by two UFV alumni.
The winners of the alumni wine label competition have taken a variety of approaches to the art over the years, from pastoral landscapes to re-worked vintage photos, to stylized graphics.
The 14 alumni label artists, in chronological order: Dean Lauze, Jeff Sawatzky, Mickie Acierno, Hannah Bennett, Melanie Schambach, Courtney Simms, Tara-Lynn Kozma-Perrin, Haley Smith, Anne Franklin, Fiona Pel, Catherine Adamson, Colin Mitchell, Nastasha Mol, and Colton Floris.
The 2019 commemorative wines are a 2016 Valley Cab and a 2018 Estate Grown Madeleine Sylvaner, which are now available for order. These limited edition wines make excellent graduation gifts, memorabilia, or prizes and proceeds go towards supporting the UFV Alumni Association.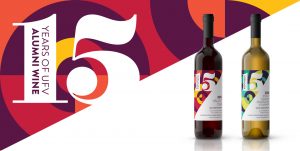 2016 Valley Cab
$22.00
A blend of 71% Cab Franc and 29% Cab Sauvignon grapes from three Okanagan Valley vineyards were specially selected for this wine. Individually fermented and then blended, the grapes produce dark plum and maraschino cherry fruit aromatics. Taste caramelized fruit on the palate with spice notes of cloves and anise on the finish. Enjoy with BBQ meats, meat and tomato-based casseroles, strong cheese, and dark chocolate.
2018 Estate Grown Madeleine Sylvaner
$22.00
These estate-grown grapes were the first to be handpicked from vines that are over 30 years old on Chaberton's Langley vineyard. This dry white offers a crisp palate-cleansing finish with delicate floral scents and white nectarine and herbaceous fennel notes. Pairs with seafood, oysters, pasta with cream sauce, light chicken dishes, and crisp salads.
You can order your 2019 commemorative wine here. Available until March 2020.
To submit artwork for the 2020 label design contest, contact alumni@ufv.ca
Share This