Community celebrates as more than 2,400 students graduate from UFV, becoming UFV alumni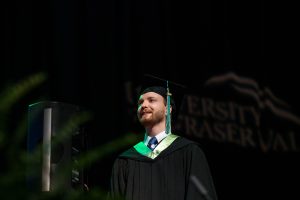 ABBOTSFORD – Years of hard work and study culminated in celebration for graduates, families, and friends at the University of the Fraser Valley at its June 4 and 5 Convocation ceremonies, held at the Abbotsford Centre.
More than 2,400 students graduated with more than 2,800 credentials this year, with approximately 1,350 of them crossing the stage over the course of four ceremonies.
President Joanne MacLean noted that Convocation is her favourite time of year.
"Celebrating the many successes of our UFV students is truly a pleasure for all of us on this stage and within the hallways of UFV. For we have watched you set foot on campus for the first time as new students; seen you transition from nervousness and uncertainty and perhaps even a bit of fear of the unknown, to anticipation and confidence and readiness all at the same time.
"You have gained knowledge and experience from renowned UFV teachers and researchers. And with the credentials that you've earned, you are well equipped to adapt to the inevitable changes that will come in your future, to tackle the complex problems facing our world, and to seize the opportunities ahead."
Student speakers addressed the crowd at each of the four ceremonies.
Amrit Dosanjh, a BA in Criminal Justice grad, urged her fellow grads to focus on helping others through mentorship as well as on launching their own careers.
"I hope we realize that our only competition is ourselves. It is our mind that convinces us we must compete against one another in order to reach our goals. Let's raise up those around us, through mentorship, or your own method, so every future leader will have a strong foundation.
"Today isn't the end of the journey, today is the start of our responsibility. We are capable of acting in tremendous capacity, but our strength is displayed in our language. May we all continue to speak the language of acceptance, gratitude, and worth."
Bachelor of Science grad Rebecca Robertson emphasized the value of supporters as students pursue their dreams.
"If it weren't for all these supporters in my life, I would not have made it across this stage. I know this is true for every one of my fellow graduates. We would not be here without the incredible support we have received over the course of our studies.
"I realize that not everyone's support looks the same — some of us have family who are incredible. Some of us made our own families. Whoever it is, we are here because of those people."
Bachelor of Business Administration grad Micara Muir related her experience coming to UFV after some time in the "school of life" and studying at a U.S. university.
"I think we can all agree that we learned invaluable lessons in our time outside academia. Ones that are just as important as the curriculum we learned here.
"Coming back to BC from travelling has made me realize how lucky we are, not only to share our differences, but to celebrate them. And UFV has offered each of us the opportunity to get our degree in our own way. Since transferring here from a small southern U.S. university, I've admired the diversity invited into the classroom."
Bachelor of Science in Nursing grad Christine Drew spoke about the challenges of juggling parenting and pursuing a degree.
"Raising three young kids, my life was already chaotic. So, from the very first day of nursing school, I had to be more focused. I had to optimize every spare moment. I had to write papers, study, and do project work while still being my kids' mom. 'Momming' was not optional. Doing well in this degree was not optional. So, I did both.
"What could have been seen as 'poor timing' was really just perspective. Nursing school was challenging and stressful, but I have grown as an individual, as a mother, and as a future nurse."
Chancellor Andy Sidhu, Board of Governors Chair John Pankratz, and President Joanne MacLean awarded honorary doctorates to entrepreneur Anthony von Mandl, community builder John Jansen, carver Francis Horne Sr., and writer Esi Edugyan.
Matthew Harty (Master of Arts in Criminal Justice) received the Governor General's gold medal for excellence at the master's level. Perrin Waldock (Bachelor of Science) won the Governor General's silver medal, recognizing excellence at the bachelor's degree level. Maria Pauna (Graphic and Digital Design diploma) was Governor General's bronze medalist for achievement at the diploma level. And Leanne Julian (Bachelor of General Studies) won the Lieutenant Governor's medal in recognition of her achievement in the area of reconciliation.
Dean's medalists were: Lauren Westhaver (Science), Emily Ross (Health Sciences), Laurence Brown (Social Sciences), Madeline Hildebrandt (Humanities), Erich Petkau (General Studies), and Taylor Nicholls (Professional Studies).
Earlier this spring UFV honoured the following faculty and staff members with awards: Teaching Excellence (Joel Feenstra), Research Excellence (Irwin Cohen), Faculty Service Excellence (Seonaigh MacPherson), Inspirational Leadership (Adrienne Chan), Staff Excellence (Josephine Charlie and Michelle Vandepol), and Teamwork (Long Night Against Procrastination committee). Three retiring faculty members were given professor emeritus status (Paul Franklin, Vicki Grieve, and Miriam Nichol).
Share This