Reflections of a community activist
Mo Dhaliwal discusses his experiences during the Punjabi Farmers' Protest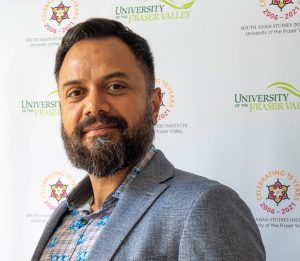 "Sometimes when we're active in the moment, we don't realize that we're somebody's ancestors. We're creating history for somebody."
Mo Dhaliwal (Dip Bus '03) took a stand for his beliefs during the Farmers' Protest of 2020, and recently reflected on his involvement in the movement in interviews featured in Rails, Jails, and Trolleys — a film about the protests.
The documentary, produced by UFV's South Asian Studies Institute (SASI) and directed by Henna Mann, focuses on the global impact of the Punjabi Farmers' Protest. It had its public premiere at UFV's Abbotsford campus in late August to a sold-out auditorium. And Dhaliwal, who was interviewed for the documentary, also attended a panel event following the premiere to discuss his political involvement with the protest.
"I was really invited into the documentary to tell a story of how I was attacked by state-sponsored media from India," says Dhaliwal, who earned a Business Administration diploma from UFV in 2003. "It's also a story about our advocacy and our involvement with the Farmers' Protest."
During the protest, Dhaliwal worked with the Poetic Justice Foundation, of which he is a co-founder, contributing his marketing savvy to generate ideas to bring attention to the Indian government's controversial actions leading to the protest. The #AskIndiaWhy hashtag was his idea, as was a social media toolkit for those wanting to communicate about the protest.
"There's a chance of starting a ripple, that in some cases turns into a tidal wave, as we saw with the Farmers' Protest," says Dhaliwal. "So, we added to that wave as best we could, with our work."
The "No Farmers, No Food" stickers, the hashtags, and the public protests in many B.C. municipalities were visible ripples in our own communities. And it's these local stories, conversations among the Punjabi diaspora in Canada, that Dhaliwal was so enthusiastic about capturing.
"Having our own local story, our local involvement and intersection with that global movement, I think it's invaluable," says Dhaliwal. "This is history making."
But using his voice and his marketing skills to criticize the Indian government had repercussions for Dhaliwal. There was a backlash and criticism from India, which he weathered.
Dhaliwal continues to be a strong advocate for his community, especially in changing the narrative on how we view governments. "Quite often we look at governments and politics and community as being something that is quite static, and is perhaps immovable," he says. "If nothing else, I hope that community members just walk away with a wider imagination about what's possible, when we come together and decide to work on something collectively."
Though he now lives in Vancouver, Dhaliwal still considers Abbotsford his home, and is a regular supporter of UFV SASI.
"UFV has a real special place in my heart," says Dhaliwal. "It's in my hometown of Abbotsford; and it's a site that I've intersected with many, many times: through the South Asian Studies Institute, working with Dr. Satwinder Bains and the rest of her team. I've had an opportunity to not just come back to the school but actually be a part of the ongoing story of understanding our culture, our identity, our contributions to this place."
Keep an eye on SASI's Facebook page to watch for future showings of Rails, Jails, and Trolleys, or read about SASI's recent celebration for its 15th anniversary.
Read more about Mo Dhaliwal and the origin story of Skyrocket, his digital marketing agency, in this feature from the 2019 edition of UFV's Skookum magazine.
Share This