UFV welcomes Dr. Joanne MacLean as President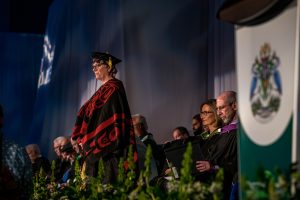 FRASER VALLEY – The University of the Fraser Valley marked the beginning of Dr. Joanne MacLean's term as president and vice chancellor on May 11 with an installation ceremony on its Abbotsford campus.
Dr. MacLean was formally installed by Lieutenant Governor Janet Austin.
The ceremony was attended by representatives from local, provincial, and federal levels of government; from other B.C. universities; from the local Stó:lō community, and by faculty, staff, administrators and students of UFV.
With more than 30 years of experience as a professor and university administrator, MacLean held appointments at the University of Windsor and Brock University in Southern Ontario before coming to UFV as Dean of Health Sciences in 2012. She earned her undergraduate and master's degrees in physical education at the University of New Brunswick. She holds a PhD from Ohio State University, where she studied human resource management in sport and recreation, and administration in higher education.
MacLean has held positions as professor, department chair, athletic director, and dean. As an accomplished university basketball coach, she was selected Ontario Coach of the Year three times while at the University of Windsor. She participated as a coach and administrator at three World University Games, and was Canada's Chef de Mission at the same event in 2003 in South Korea.
In her address to the audience at the installation, MacLean said she will draw on her decades of experience as a coach, teacher, researcher, and administrator in her new role.
"Through my experiences, I have learned the value of team work and respect for others; the importance of creativity, resourcefulness, and empowerment; the role of listening in understanding and creating true impact; and the vital need to transform values into behaviours in building a better, more just society. I will endeavour to have these considerations guide my efforts as president of UFV."
She also committed to supporting the efforts of students, faculty, and staff.
"I believe that our people are our greatest strength, and that supported, challenged, respected, and connected faculty, staff, and students will thrive in the learning environment, achieve their potential, and contribute to our overall success."
She noted that two weeks into the job, she still has a lot to learn and she will dedicate herself to the mission of guiding UFV in its development.
"I believe more strongly than ever in the role of higher education and the power of education for improving our society: our aspirations must and do include our commitment to learning and student success, our acceptance of the power of new ideas, our belief in discourse and democratic values, and our certainty that human possibility, if nurtured, will prevail."
UFV Board of Governors Chair John Pankratz welcomed MacLean to her new role at the ceremony.
"The president of a university is not only the leader of the institution, but also the individual who, through her leadership may instill a set of values to an entire community," Pankratz noted. "Universities are leaders in the community — organizations that stimulate new thinking, research, skills, and knowledge. We must be inclusive, diverse, and exemplify a willingness to lead positive change in the Fraser Valley and beyond. Dr. Joanne MacLean embodies these values and is a wonderful choice for UFV at this point in the university's history."
Share This