Agriculture alumnus advocates for limiting antibiotic use in livestock
Deniz Petekkaya is trying to change the world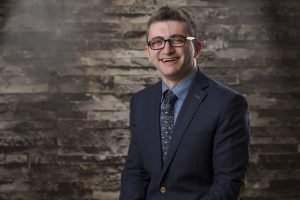 After graduating from a business administration program at Işık University in Instanbul, Deniz Petekkaya (Dip '12) started working for his dad as a marketing assistant for Farmavet International.
His father urged him to learn more about animal sciences. After attending many congresses about animal nutrition and animal sciences, Deniz started looking for programs that could give him a solid education in animal sciences. UFV fit the bill, and he applied to the Agriculture and Livestock Production diploma program.
"My dad was working on formulas about feed additives and the more I got involved with the family business the more I wanted to have an impact on changing the antibiotic growth promoter usage in animal nutrition."
Deniz is very concerned about the use of pharmaceuticals in animal feed.
"It's bad for them, and on top of that we humans are consuming the milk, eggs, and other products that come from the farm animals."
Deniz has made it his duty to do whatever he can to push against the use of antibiotics for farm animals and strongly believes this century will be the era when humanity goes back to natural remedies.
He had an idea of what he wanted to achieve when he enrolled in the Livestock program, and UFV helped him understand the way farmers look at the issues.
"Many of my assignments were practical work and it was an awesome and unique experience doing homework at a barn, milking cows, feeding calves and following up with their growth."
Paul Gumprich, Dieter Giesing,  and Annette Moore were some of the professors who helped Deniz understand and exposed him to different approaches to farming and food production. While studying at UFV Deniz got many opportunities to get involved with the community, through many field trips to farms and production facilities, and two internships: one at EcoDairy Farm and Vandepol Eggs.
"Being a UFV agriculture graduate is definitely a very good asset in agribusiness careers."
Today Deniz is one of the shareholders and the foreign trade coordinator of Farmavet International feed additives company. Farmavet develops, manufactures, and exports natural feed additives for all kinds of animals.
Deniz urges everyone to find a cause they believe in.
"I would suggest to find a cause to fight for and to get involved in many things. There is a famous ikigai concept. Find something you do that people will pay you for, love that thing you do, be good at it, and feel that the world needs it."
Deniz also got the chance to go on stage at a TEDx event after he met the curator of TEDx at a G20 event in Istanbul.
"I think he got inspired by what I do, and encouraged me to share my story."
Read a short article Deniz wrote about his TEDx experience, or watch his talk (in Turkish) "Against the Antibiotics".
Share This