Alumnus Seamus Heffernan to release second novel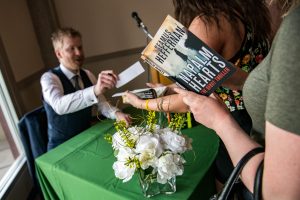 Author Seamus Heffernan (MA Crim '17) is at it again, with plans to release his second detective novel, Ten Grand, in June 2019.
Originally from St, John's, Newfoundland, Heffernan moved to Abbotsford in 2014 to pursue a master's degree in criminal justice at UFV.
During his time as a UFV student, he was briefly the culture editor and a contributing writer at the Cascade student newspaper. Heffernan's short story "Guys" was published by the Louden Singletree, a UFV student literary journal, in the spring of 2017. He is now a member of the UFV Alumni Association Board and a sessional instructor within the School of Criminology and Criminal Justice.
In April of 2018, the UFV Alumni Association hosted the launch of Heffernan's first novel, Napalm Hearts. Impressed by the Alumni Association's professionalism and genuine passion, Heffernan was inspired to get involved.
Heffernan has been an aspiring author since childhood. One of his earliest memories of writing was in the second grade when he wrote a short story about an emergency plane crash landing and since then he has always had the fiction bug. He remembers his father bringing him to a used bookshop as a child where he was introduced to comic books and paperbacks. He continued to be inspired to write both in school and on his own. As he got older, he continued to believe that writing is what he wanted to do.
"I wanted to write cool stories and create characters people cared about. And I wanted to see a book by me on that bookshop's shelf."
Heffernan's first novel Napalm Hearts is a detective story about a successful but somewhat jaded American private investigator living in London, England, who specializes in lucrative infidelity cases. Interested in doing some "real" investigative work, he takes on a new client, a wealthy and powerful man whose much younger and hard-partying wife has disappeared — and may or may not want to be found. Heffernan describes his novel as a "bullet-paced thriller, with a few of the typical twists and turns, but it also explores themes of loneliness, power, and class."
Heffernan chose mystery because he had always wanted to write a crime story. That, and a few lonely months in his own life, plus a time spent visiting and living in London, gave him ample material to work with.
"My writing process includes recording a voice memo or writing down right away any ideas that occur to me."
With his first novel, he did a lot of planning. However, half-way through he went in a different direction.
"For my second novel, Ten Grand, which is a sequel to Napalm Hearts, I started off with a rough idea of where I wanted to go and then just dug in," he notes.
"Writing the sequel was different because the first book was a hobby, whereas the sequel has higher expectations, both from people who enjoyed Napalm Hearts and his publishers," he notes. Writing the first book was a bit of fun, writing the second book was work. That's not a bad thing, per se, but it's certainly not the same thing."
Fans of Napalm Hearts will enjoy Ten Grand, Heffernan says.
"It's similarly quick-paced, with the same rat-a-tat dialogue style and the usual twists and turns. It's a new story, and takes place about a year after the end of Napalm Hearts."
When asked about what advice he would give to students about writing, Heffernan shares a quote from Hemingway: "Writing is easy. You just sit at the typewriter and bleed."
"Whenever people ask me about how to become a writer, I tell them to simply start writing. If writing is important, you must make time for it. Don't worry about agents, acceptance letters, or even getting published. Just sit down, write and tell your story."
Share This