The science of memory and forgetting
Alumna Tanya Jonker discusses her innovative research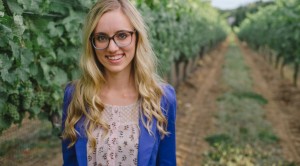 Tanya Jonker is not one to be satisfied by the status quo. As a psychology student at UFV, she disagreed with the predominant perspective on her area of focus, leading her to develop her own theory. Today, as Tanya continues to develop her work as a PhD candidate at the University of Waterloo, her theory has become widely respected.
"My research focuses on the mechanisms underlying forgetting in human memory," Tanya says. "According to an inhibition account of forgetting, memory representations can be suppressed to facilitate retrieval of other related memories. For instance, when you retrieve some information, it can result in forgetting related information. Although this account is widely accepted, I am interested in testing its viability as a theory.
Now a Vanier Scholar with a long list of publications, Tanya plans to pursue a career teaching and researching at a university.
As the winner of the UFV Young Distinguished Alumni award for 2014, she is particularly touched that it was her former professors who nominated her for the award.
"It means so much to me that some of my professors at UFV nominated me for this award," says Tanya. "I've always worked really hard – you have to in order to keep up — so it's very nice to be recognized for some of that hard work."
"I believe that Tanya is a truly remarkable scientist who will continue to make UFV proud," says Dr. Andrea Hughes of UFV's Psychology department. "I firmly believe that she will be one of the very top academics in her field."
Share This