Grandpa's photos turned to art
UFV alumnus' award-winning work graces commemorative wine labels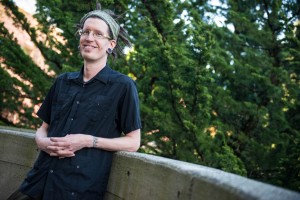 The winner of the annual UFV Alumni commemorative wine label design contest took an unusual approach to creating the art that has been chosen to grace the labels of this year's wine.
"These two works resulted as a solution to damage done to photographs taken by my grandfather during his time in India during the Second World War. Significant damage had occurred, so I undertook to paint them and fill in the missing details, thus repairing and preserving them," said Colin Mitchell (Dip '97).
Mitchell graduated from UFV with a Fine Arts diploma (with honours), then continued on to the University of Lethbridge for his BFA in 1999.
Since then, he has continued working and exhibiting. His work often incorporates elements of sculpture, painting, and photography creating a contemporary stylistic fusion. Check out more of Colin's work on his website: www.colinmitchellartwork.com 
This year UFV is offering two select wines for the Alumni commemorative wine: the 2012 Reserve Syrah and the 2014 Reserve Siegerrebe, produced by Chaberton Estates of Langley. Colin's winning pieces for the label designs are titled The Train (India) and River Scene.
"As we enter the 12th year of the program, we are delighted to be renewing our partnership with Chaberton Estate winery of Langley," said Alumni Relations manager Whitney Fordham. "The Alumni commemorative wine is a highly anticipated annual tradition at UFV."
The commemorative wine is purchased as graduation gifts, memorabilia, prizes, and for enjoyment by UFV faculty, staff, students and alumni, and at community gatherings. The wine can now be purchased through the Alumni Relations office.
The wine honours the graduating class and is sold throughout UFV communities as a fundraiser for the Alumni Association's student monetary awards and activities. At the launch event each spring, the wines are unveiled and the winner of the artist competition is announced. It's one of many Alumni Association initiatives and an amazing opportunity for connecting with the UFV community and celebrating the achievements of their alumni.
Order your 2016 Commemorative Wine here.
Share This