Joel Feenstra's "electrifying" teaching style garners award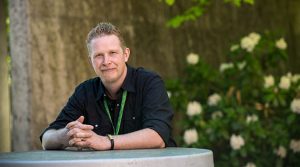 Joel Feenstra's teaching style has been described by his students as "electrifying".
Fortunately for all, they don't mean literally.
A dedicated, creative and passionate electronics, automation, and electrical instructor, Joel is the recipient of this year's Teaching Excellence award at the University of the Fraser Valley.
Even at 17, Joel had a long-term vision — he hoped to teach electrical for the last 10 years before retirement as a way of winding down his upcoming career.
Luckily for legions of UFV trades students, the wait wasn't that long.
Joel jumped straight into life as an electrician even before graduating in 2003 from a high school and UFV collaborative trades program called the Career Technical Centre in Abbotsford. He loved working in the industry and eventually, along with wife Kathleen, started Feenstra Electric.
Inspired by UFV instructor Dave Riel, Joel almost immediately tied back into UFV, subbing as an instructor and picking up short teaching contracts while plying his trade throughout the region before becoming a full-fledged UFV electrical instructor in the end of 2014.
Those years of practical experience training his own apprentices taught him where to focus his teaching.
"I want my students to be able to leave my class and go to an employer and succeed immediately, because they already know what they're doing. It's important to prepare them to excel," he says.
"It's challenging in ways you never thought about, but I love it. Plus, I get a chance to continue learning."
Joel's contributions expand well beyond the walls the UFV's Trades and Technology Centre.
An active board member of UFV's Alumni Association, he recently collaborated with Sian Hurley of UFV's Culinary Arts and Indigenous artist Carrielynn Victor to create an award-winning gingerbread house based on a Sto:lo longhouse design. Among other projects, he also helped create the glowing UFV Trades float for Chilliwack's Christmas parade, crafted beautiful paddles for UFV's Ripplemakers fundraising project, acquired a $200,000 donation of industrial equipment for his labs, and assisted in an on-campus poppy installation honouring Canada's war heroes.
"We have access to such incredible tools that to not use them would be a shame. We've had great support in being able to acquire this equipment and I love experimenting with it to help people and their projects," he says.
He even built his own office chair out of cast-off antlers.
"Basically, I like to infuse my creativity to make things that are beautiful and functional."
From complex automation to intricate engraving, Joel's skills are equally technically diverse and artistically impressive.
In a letter supporting Joel's Teaching Excellence nomination, no fewer than 14 former students enthusiastically expressed their admiration for his dynamic, practical, dedicated style of teaching.
They said:
"Joel has set the bar incredibly high for instructors. He is, by far, the best instructor I've ever had."
"Joel is willing to adapt to the learning styles of different students. He often goes out of his way to ensure that we succeed and he dedicates extra time to help students that are falling behind."
"For many of us, Joel is more than an instructor: he is a mentor, role model, and guide. He has, in the parlance of UFV, changed lives and built community."
"Joel is an exemplar of UFV values, representing the very best of what the institution has to offer. He is a talented and passionate instructor. He balances innovation and pragmatism, offering unique insights into an industry he knows well. He creates an engaging classroom dynamic that rewards excellence and risk-taking while leaving no student behind. Joel's teaching could be described as electrifying."
Though at home his mind often "tumbles though puzzles presented at work" he enjoys time with his family in Chilliwack by playing BeyBlades with his 7-year-old son or building cedar paddle boards for trips to the lake.
"My parents always pushed me to do well," he says.
"I just like being at the top of my game."
Share This