Keeping the Bard in the Valley
How UFV alumni saved a theatre company through passion and hard work
For Madison McArthur, the love for Shakespeare began back in high school.
The actor, director, teacher, UFV alumna, and president of Bard in the Valley was entranced from the beginning. Now, she and other UFV Theatre alumni are helping to keep Shakespeare alive in the Fraser Valley. And, for the first time, they've added a winter non-Shakespeare production, Almost Maine by John Cariani.
"My first show was the Scottish play, which I don't say because I'm superstitious, but you know the one. And I loved the language, and it was kind of mind blowing," says McArthur. "And then when I did Romeo and Juliet on stage, I would listen to it every night. And every time I that I heard it, I heard something new and something different. The poetry was unreal. It kind of blew my mind when I was 17. I thought 'one person wrote this? Like, how do you even come up with this stuff?'."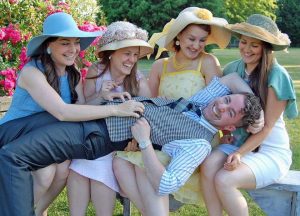 McArthur's passion for Shakespeare led her to the University of the Fraser Valley's Theatre department after high school because of the program's then-annual Shakespeare performances. She also began performing with Bard in the Valley in 2013.
Through her degree she explored other courses and met other Shakespeare aficionados, such as English professor Melissa Walter, who shares McArthur's love and excitement for the Bard.
"There was one performance we did for Bard in the Valley of Love's Labours Lost and it was absolutely pouring that day," McArthur recalls. "There were like three people in the audience and one of them was Melissa. She sat front-row, centre, a huge smile on her face the whole time. She must have been so cold, but she was a trouper that day."
However, in 2019, the board members that ran Bard in the Valley were ready to step down. McArthur then invoked her passion for Shakespeare and stepped up as president. Since then, she has been working hard alongside some of her closest friends who are also UFV Theatre alumni.
Bard in the Valley was founded by the late Alan Thain in 2010, opening with A Midsummer Night's Dream. Their mission: to provide "Shakespeare for all".
To fund his productions, Thane went to all the Rotary clubs in Langley and raised $5,000 from 50 people, who are now fondly remembered as the "Founding Fifty".
"Since then, it's really grown," says McArthur. "That was just the beginning of it. He started that, and then was able to take whatever money they got from donations that year and do another show next year. And when he passed, Diane Gendron took it over, and she took that to the next level."
"So, they were at the point where they said they would have to dismantle the board."
Gendron acted in the role of president for Bard in the Valley for 10 years but stepped down in 2020. Unfortunately, the rest of the board was going to step down with her, forcing Bard in the Valley to have to close the curtain forever.
"So, they were at the point where they said they would have to dismantle the board," says McArthur.
McArthur volunteered to take over as president and managed to keep two past board members. She then filled in the rest of the ranks with more UFV Theatre alumni.
"I was the only one on the board that was going to stay, and I looked to my friends who I graduated from UFV with," says McArthur. "We looked around the room, and we all said, 'I'll do it if you do it.'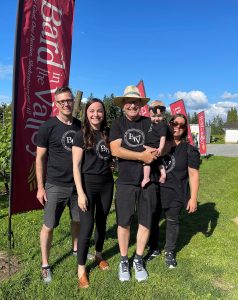 "And so, we all just agreed okay, let's do it! And we were lucky in 2020 that everything was cancelled. It gave us an extra year to get everything together. We ended up doing a smaller show, and we built to Measure for Measure last year. And now I'd say we're a well-established board that's on our feet, and just continuing to grow and see what we can add. So, this year we decided to add a winter show."
And it's because of her close bond with her cohort from UFV that she was able to bring so many together in such a short time to keep Bard in the Valley alive.
"I really think our time at UFV and with the Theatre department at the time really allowed us to bond with our friendships in doing that many shows in that short amount of time," says McArthur. "We would be doing three shows a year, plus the director's festival, every year during our studies. So, our time together really helped us bond and solidify our relationships, and then you finish university and then you're like, now what? We needed something that was our own."
In fact, it was UFV Theatre alum Dylan Coulter who brought McArthur into Bard in the Valley to begin with, back in 2013.
"We found Bard in the Valley because of an alum who had started directing there and said, 'hey I need actors. Who wants to come audition?' We all clung to that. And Dylan and his wife, who is also a board member now, directed a few shows for a few years, back-to-back, which again allowed us to stay together."
McArthur, who is now a teacher in the Langley School District, attributes a large part of the company's success to their strong relationships and proximity to one another. Her Bard in the Valley colleagues are also teachers in Langley. With similar schedules and living near to one another, they've been able to put in extra time and effort into their productions.
I fell in love with the script. It is very funny, very romantic, very heart wrenching.
And this year, for the first time ever, Bard in the Valley is hosting a winter show.
"This year is a special year, because we're doing our first winter show called Almost Maine, which is not Shakespeare," says McArthur. "We wanted to do a fundraiser for the summer, and we wanted to try our hand at doing a winter production, as we've never done one before. We needed something that was — I don't want to say easier — but Shakespeare can be very challenging since you need a longer rehearsal period."
When asked what attracted them to Almost Maine for their winter production, McArthur said it was the script.
"I fell in love with the script. It is very funny, very romantic, very heart wrenching. And it has these little moments of surrealism. Where it could almost be true, but you know that it's not physically possible to be true. And then I think it's really beautiful coupled with the imagery of the northern lights and this winter town."
Performances for Almost Maine take place at the end of January and beginning of February. The BIV players hope to bring a little warmth to the dreariest months of the year.
And for their summer production, Bard in the Valley will be performing Cymbeline.
"Cymbeline is all the Shakespeare tropes thrown into one show. You know, like the long-lost siblings, switching of poison to sleeping potion, secret weddings, women dressing as men, and an evil stepmom. There's lots of them thrown in there," says McArthur. "I think it's classified as a romance. So, it's not technically comedy or tragedy, but has elements of both."
Cymbeline will be performed during the summer across Langley and at the Abbotsford EcoDairy this year.
"The audience can expect music, and dance," says McArthur. "There's always a song and a group dance number. That's one of our things. But what they can expect is, is just a family friendly environment, a good time."
Tickets for the upcoming Almost Maine are available on the Bard in the Valley website here.
Be sure to watch for their summer performance times as well. And when you are enjoying the shows, be grateful to the UFV alumni who are working hard on this volunteer effort to bring theatre to your community.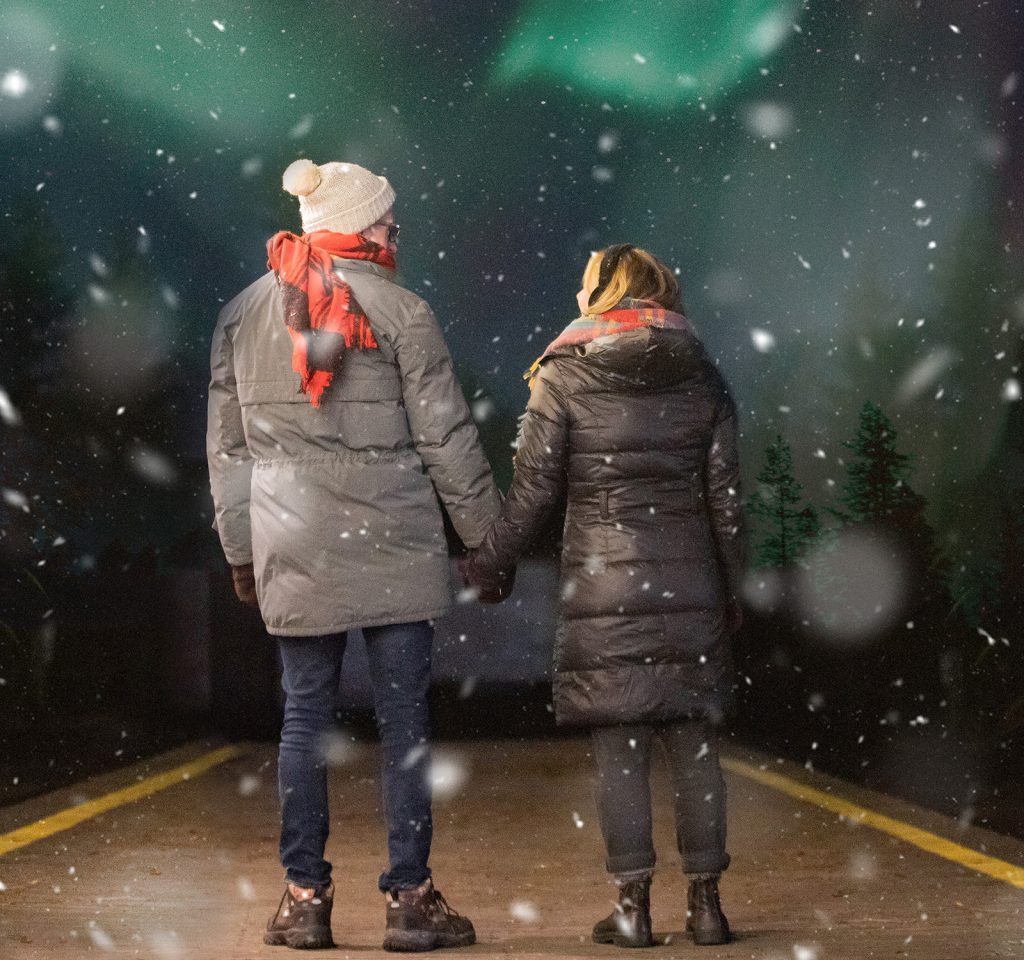 Share This