Michelle Vandepol is UFV's 'go-to' person in Hope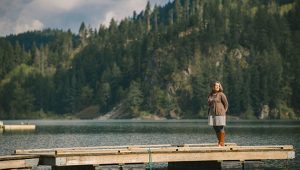 Need to find out what UFV courses you can take in Hope? Michelle Vandepol can help you. Want to register for your Abbotsford or Chilliwack courses or get your Campus Card photo taken without travelling from Hope? She can help you with that too. Need a UFV representative at a meeting in Hope? Michelle will be there. Want to rent the Hope Centre classroom? Call Michelle. And, of course, there are 'other related duties'.
Michelle Vandepol is THE main UFV presence in the community of Hope. As Hope Centre Coordinator, she handles many administrative tasks, helps students from the Hope community navigate the UFV system, and performs community outreach duties such as organizing special events and representing UFV at meetings and on committees. While several instructors teach courses at the Hope Centre, Michelle is the only employee based there.
For her dedication to the students of the Hope Centre and the UFV presence in the Hope community, Michelle is one of two winners of the UFV Staff Excellence award in 2019.
Michelle is a UFV alumna twice over herself. While a parent to young children, she diligently worked on her Associate of Arts degree in the late 1990s. And just last year she completed her Bachelor of General Studies degree.
So she can relate to the struggles students face, in particular the students at the Hope Centre, who are mainly new to post-secondary studies and taking upgrading courses. She makes sure she creates a welcoming atmosphere by providing hot lunches on Wednesdays, having prize draws, organizing end-of-semester potlucks, and generally being there for students for emotional and logistical support.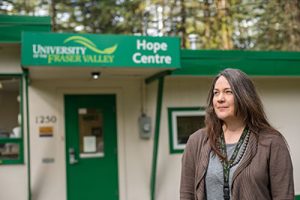 "Students who are working and taking care of their families and making it a priority to attend UFV should be celebrated for being here," she says. "That's the type of vibe I try to create at the centre. We're all human and living this life together."
Michelle worked as a freelance writer for several years before joining UFV, and says that the independence fostered by that experience helps in her current role.
"I'm well versed in working alone, practising good time management, anticipating deadlines, cold-calling prospective partners, and networking."
As part of her UFV outreach work, she co-chairs the Hope and Area Healthier Communities committee and sits on a steering committee for distributing health and well-being funds in Hope for Fraser Health. And she attends just about any other meeting or public event to spread the word about UFV.
"By being out there in the community, I make UFV less intimidating for prospective students and help to build trust."
In addition to her Hope Centre duties, Michelle runs writing workshops, advocates for literacy initiatives, and serves as president of the executive of the Adult Basic Education Association of BC.
Her colleagues are full of praise for Michelle.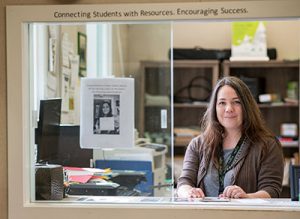 "In addition to her excellence in fulfilling her work role, Michelle is an outstanding colleague," notes Continuing Education director Liana Thompson, who works with Michelle on CE courses for Hope. "She is one of those rare individuals who can truly function without ego; she whole-heartedly celebrates each and every one's success, and in doing so lifts the morale of colleagues and students alike. Her core values of service, relationships, and integrity shine through in all she does."
"Michelle is quick to give kudos to coworkers, shares resources and opportunities, and inspires people to achieve more. She can be counted on to support us — whether it is in the offer of help, some much needed humour, or a note of praise," adds Shannon Draney, a colleague from the Upgrading and University Preparation department.
Michelle is particularly pleased that her supervisor Laura Wiebe and other colleagues, whom she does not see in person often, nominated her for the award.
"We have a good working relationship but I don't see them a lot. This made me feel closer to them. There's not many lunch dates when I'm often working alone in the centre."
Share This