Painting a pleasurable pastime for 2023 alumni wine artist Danielle Deschamps
For Danielle Deschamps (Cert ABT '15), painting with watercolours is an escape into paradise.
"I'll put on some music, maybe have a glass of wine, and paint. It's a great way to escape from all my worries for a while," she notes.
Although not formally trained as an artist, Danielle has honed her craft under the guidance of a close friend with whom she paints.
"I was always artistic and had worked as a seamstress. I always loved to create things," she recalls. "I watched my friend doing watercolour and was fascinated with what you can do with just water and pigment. She taught me to design what I want to paint and then to fill it in with watercolour. I loved it from the start!"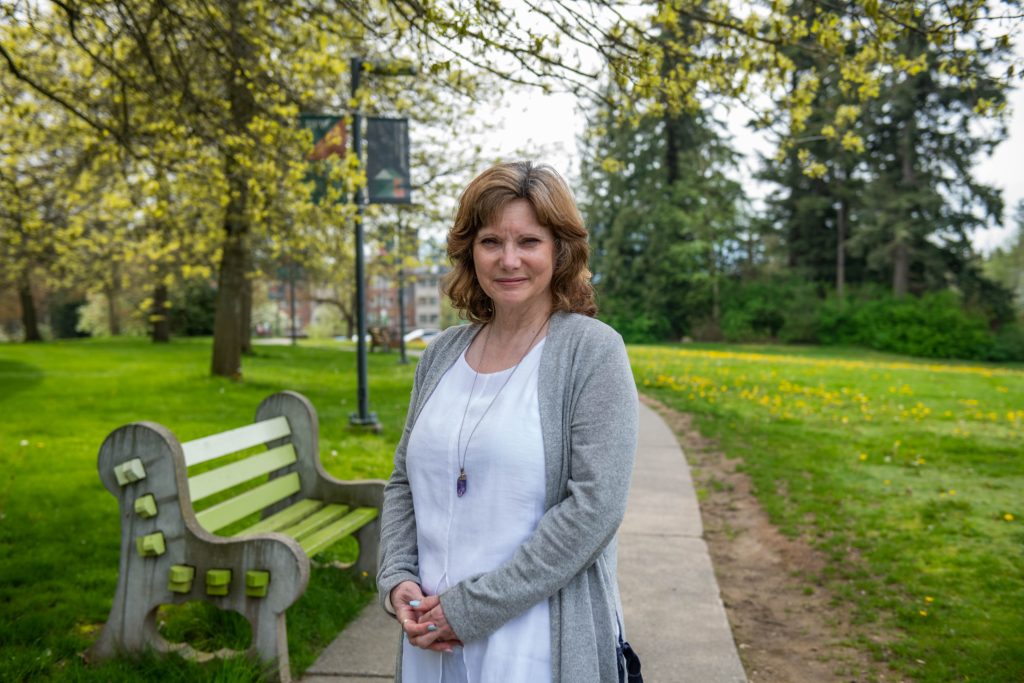 Now Danielle's art is gracing the labels of this year's alumni wine.
She finds inspiration in the natural beauty of British Columbia and enjoys sharing her passion with other artists and continues to study watercolour at workshops. The flowers featured in the paintings on this year's labels are white roses and apple blossoms, which she saw on a trip to White Rock.
"I love painting flowers," she notes. "It brings out all the joy and colour."
Since 2005, the Alumni Association has partnered with local wineries for its annual Alumni Wine Program. Proceeds from the program support the UFV Alumni Association's bursary fund to benefit UFV students. This year's wines are both from Chaberton Estate Winery: a 2019 Merlot and a 2022 Pinot Gris.
"Our partnership with the Fraser Valley's oldest winery, Chaberton Estate Winery, truly represents the spirit of community and collaboration that is at the heart of UFV," says Whitney Fordham, UFV's Director of Alumni Relations and Executive Director of the Alumni Association.  "Together, we're able to support our students and alumni while celebrating the rich history and culture of the region.
"The Alumni Wine program is a fantastic way to celebrate our graduating class and also showcase the incredible talents of our UFV alumni," she adds. "Danielle's artwork is a perfect example of the extraordinary creativity that thrives within our community."
Danielle graduated from the UFV Applied Business Technology certificate program in 2015 and it set her on course for a rewarding career in support positions at the university. She currently works as the assistant on the Assessment Services team.
"I was in my early 50s and had been working outside in construction," she recalls. "I didn't want to do that for the rest of my life but also didn't want to be in school for too long. The eight-month ABT program is perfect for someone my age looking to get a better career."
Now she's an unofficial ambassador for the Applied Business Tech program.
"I tell people coming in to take assessment tests that the ABT program is a great way to improve your employment chances," she says.
She found that her instructors were very supportive and encouraging during the program, which was a challenge for her because English is not her first language. And they were supportive afterward, giving her employment tips. They were even supportive when it came to her art, encouraging her to enter it in the wine label competition.
"I'm so proud to be a UFV alumna," she notes. "I didn't have the chance to get an education when I was younger and I started in the ABT program at age 53. I was crying when I graduated, when I finally got to put on that grad cap. I was working in factories since the age of 15, and then raising kids and grandkids. I recommend the program to so many people, especially women who are looking for a career after raising their families."
As for having her paintings chosen for the wine labels?
"It is a great privilege and honour to show my art in this way, and to represent UFV as an alumna," she says. "Without the education I received here I would not be where I am today."
2023 FEATURED WINES
Chaberton Estate Winery 2019 Merlot
Dark fruits, black cherry and strawberry aromas raise from the glass, leading to flavours of mulberry and raspberry pie accented with a medium acidity. With proper storage can be kept for-8 years.
Chaberton Estate Winery 2022 Pinot Gris
Cold soaked on the skins for 23 hours to give this wine its sunset coral colour. Grown in the hot Okanagan sun, which helps produce the notes of peach and cotton candy on the nose as well as grapefruit and cantaloupe on the palate.
Order your box of six bottles and receive free delivery to home addresses in the Lower Mainland. To order your alumni wine, visit:
https://www.chabertonwinery.com/product/2023-ufv-alumni/
Share This