Passion Ignited: from rebel to ER nursing career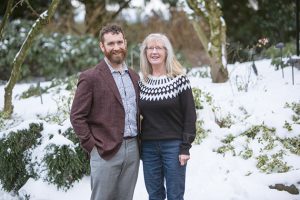 Matt Douma wasn't a typical nursing student.
He chafed against convention and questioned the rules.
He had passions outside of the Bachelor of Science in Nursing degree program, despite being warned by his professors that he wouldn't have time for volunteer work or extracurricular pursuits.
He was at risk of dropping out and almost gave up on his dreams of being a health-care professional.
But meeting two key people at UFV saved him.
Rowing coach Liz Chisholm helped Matt focus his energy and pursue athletic excellence. And Adrienne Chan, a professor of social work and human services, introduced him to university-level research opportunities.
"Two people were key to my academic and personal success: Liz Chisholm and Adrienne Chan," Matt asserts. "They bolstered my wellness and helped me transition from a rebellious youth to a disciplined young adult. Adrienne was the first person to make me feel smart. She taught me that if I put in the time and effort into a project, I could be successful. Thanks to her, I am as much a research scientist as I am a Registered Nurse now."
Matt's current career has three streams to it: He provides clinical nursing education to students three times per week, he spends two or three days a week in his own academic pursuits, and he trains nurses and other health-care professionals in emergency life-saving skills, including those relevant to the COVID-19 epidemic.
Based in Edmonton at Royal Alexandria Hospital, he also teaches at the University of Alberta, and is involved in research on critical health care skills with collaborators from across the world.
His success was not a given.
As a young man Matt had energy to burn… and he had to find a conduit for it so he could still his mind and body and focus on his studies.
For Matt, that conduit was rowing. He was introduced to the sport after his parents enrolled him at Brentwood College school on Vancouver Island. He had been expelled from school in his hometown of 108 Mile House, and this was a last-ditch effort to correct his course.
"I really got turned around there. I learned how to study with the help of mandatory study hall sessions, and also got into rowing."
A few years of working on the periphery of the health care field followed. He was involved in ski patrol, search and rescue, and occupational health and safety.
"I wanted to get into health care, but knew my grades weren't good enough to put me on the med school track, and I'd seen too many paramedics stuck waiting in hospital hallways for their patient to be admitted. I needed more action than that. So I decided to pursue a career in emergency nursing."
Once he was admitted to UFV's nursing program he joined the UFV rowing team and was out on the water at Fort Langley most mornings, rowing with his partner under the guidance of Coach Chisholm.
"Rowing was a way to tire me out enough so that I could focus on my studies," Matt says. "It was also essential for my mental health. I needed that outlet."
And when Liz and her husband Tom discovered that Matt was sleeping in his 1987 Honda Civic hatchback in parking lots, they took the unusual step of inviting him to live in their family home for his last semester.
"As a coach, one is very mindful of helping people grow and develop as a whole person," Liz notes. "Matt was going through a very stressful time, rowing at the university level, taking a very demanding and all-encompassing program, and being very involved in a major research project. After I arrived at the boathouse before dawn one morning and found Matt sleeping in his car, I talked it over with my husband and we decided to offer him one of our spare bedrooms for the winter months."
As Liz was Matt's coach, she was careful to keep a professional distance, and the offer to stay came from her husband Tom. They didn't see much of Matt as he was busy on all fronts and out much of the day and night, but the security of having somewhere to sleep and look after his basic needs supported his success.
"Yeah, it was tough being a student athlete," Matt recalls. "It was difficult balancing training in Abbotsford/Chilliwack, having clinical rotations all over the Fraser Valley and living where I had been in Langley. I was running out of money and I needed to keep rowing in order to maintain my mental health. I was sleeping at the boathouse parking lot in my Honda Civic. Liz and Tom made it possible for me to continue to be well, pay tuition, work in Abbotsford, and do clinical rotations."
Matt was the UFV Cascades' top male rower from 2004 to 2006, achieving unprecedented results for the team.
He and teammate Gareth Newcombe (BKin '06) became the first Cascades rowers to earn selection to the prestigious Head of the Charles regatta in Boston in 2005, where they finished second to Harvard University in the men's double. Matt and Gareth also turned in outstanding performances at the Canadian University Rowing Championships, winning the B final in 2004, and qualifying for the A final in 2005.
But Matt was more than an athlete.
He also had a burning curiosity about the world around him, a strong volunteer ethic and sense of social justice, and interest in social issues that took him beyond the nursing curriculum. So he enrolled in Adrienne Chan's social work course as an elective outside of his nursing studies.
Adrienne supervised Matt in a project examining homelessness in Abbotsford from a health-care perspective. In his research study, Matt detailed the experiences of individuals through 12 in-depth participant interviews and 50 questionnaires with people who shared their challenges and victories with disease, substance misuse, and holistic health within the context of physiological illness and service delivery.
"Matt was a very dedicated student in my class," Adrienne recalls. "He was an outstanding researcher with an inquiring mind. He took his studies seriously. His challenges were to ask 'why' and 'why not' questions, to attempt to challenge the health care and social systems to change policies and practices for the betterment of clients and patients."
In his graduation year of 2006 Matt was a UFV Scholar Athlete of the Year and he received the Undergraduate Research Excellence award, jointly with another student. While at UFV, Matt was also volunteering at the Salvation Army and doing foot care for homeless individuals.
"Matt has a deep sense of health care and its connection to human rights," Adrienne says.
"I really owe my research training to Dr. Adrienne Chan," Matt says. "She taught me how to formulate a question and answer it in a meaningful way. She was my supervisor through my undergraduate research project surveying and interviewing adult emergency shelter users about how they manage chronic illnesses. With her help, I was able to present this work at the Social Sciences Congress. It was an incredible experience."
In 2006, just after graduation, Matt went to Vietnam on an international program supported by the UFV Research Office, UNICEF, the Canadian International Development Agency and the Association of University and Colleges of Canada (now Universities Canada). He worked with repatriated sex workers in Vietnam and China to relocate children who had been trafficked. This internship experience gave him an opportunity to collaborate with lawyers and child protection officers on a proposal for domestic violence systems change in Vietnam.
"This was a great experience too. I got to do many site visits and meet lots of interesting people, and it inspired me to engage in other overseas volunteer work once I was established in my nursing career."
These other overseas experiences came with pre-trip training in emergency first aid, and one method he learned there — external aortic compression — influenced his future passion for resuscitation science. He used the technique on a man he encountered bleeding out from gunshot wounds in an Edmonton parking lot and was able to keep him alive until the paramedics arrived.
Although the man later died, the experience inspired Matt to try to find ways to spread the word about this and other life-saving techniques so that other people have access to them. A recent research paper that he co-authored examines whether "virtual digital assistants" such as Siri and Alexa can help with basic first aid and life support queries.
In fact, when asked what advice he would have for the UFV community, his wish was a simple one: "Get first aid training. Everyone can learn to save a life."
Adrienne, his former professor, thinks Matt exemplifies what type of citizen a university graduate should and can be.
"The ideal UFV alumnus is an excellent citizen and a role model. Matt's strong commitment to clinical education, emergency care, and a lifelong commitment to vulnerable and marginalized populations makes him both of these things. He has lived and worked in a socially conscious manner since he was a student at UFV. Moreover, he is a kind, empathetic, skilled and compassionate practitioner."
Share This