Patti MacAhonic turns tragedy into a life of service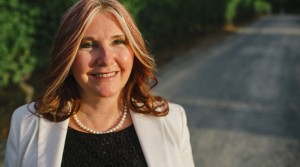 In 1988, Patti MacAhonic lost her husband in a workplace accident only to be frustrated by the bureaucratic system that was intended to help her.
But Patti saw past this frustration and resolved to make a difference for others.
"I decided I needed to change the system with regards to workplace injuries and fatalities and their effect on the families left behind," she recalls. "People who have been affected by workplace injury have the passion and the drive to effect change and really understand the meat of the issue from personal experience, but they are not always taken seriously. Academics studying the field have knowledge and expertise, but they don't 'get it' the way someone who has lived it does."
Patti then graduated from UFV with her Bachelor of Adult Education degree and from Royal Roads University with her Master of Business Administration. She served in leadership positions with the BC Wildlife Federation, the Chilliwack Chamber of Commerce, and the BC Brain Injury Association.
Today, Patti is executive director at Ann Davis Transition Society in Chilliwack and UFV's 2014 Distinguished Alumni award winner.
Through it all, she has tirelessly worked to help people impacted by accidents in the workplace. The result of her decades of lobbying was the facilitation of substantial changes to BC's Bill C-37 for survivors and children of workplace fatalities.
Patti continues to combine her personal and professional experience to bridge the gap between academia and injured workers' families. She is currently involved in a $13-million study on workplace injury and disability financed by the Research Council of Canada.
Share This