Sidi Chen: Artist in Motion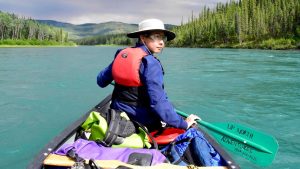 Humble, polite, and incredibly modest. At first glance, it would be hard to guess that Sidi Chen is a success in the art field. His calm demeanor betrays nothing about his profession, nor the many achievements he has accomplished. Yet, with a number of completed exhibitions, projects, and artist-in-residence programs under his belt, it's very clear that this UFV alumni is indeed a successful emerging artist.
Chen's series of successes have taken him across Canada. Originally from China, he started to develop his artistic skills in childhood and continued throughout his primary and secondary schooling. However, due to lack of job opportunities for artists in the China, Chen first went into advertising, in 2011, at the Ningbo University of Technology. Chen enjoyed working in advertising, but it ultimately didn't pan out as the industry started taking a direction that wasn't favourable for his long-term plans. After a period of reflection and deciding what would truly make him happy, he found himself once again pursuing art.
Chen transferred to UFV in 2014 and became a Visual Arts student. This decision, which required Chen to essentially restart his life, was a natural fit for the artist who believed that the new environment would give him a better chance at success. He completed his Bachelor of Fine Arts degree in 2018.
After obtaining his BFA, Chen left to enter the Canadian Wilderness Artist Residency (CWAR) — a program where he, along with 11 other artists of various backgrounds, took a canoe trip in the Yukon. Starting from Whitehorse and ending at Dawson, the 17 days Chen spent paddling down the Yukon River quickly turned into a proper adventure.
From discovering an abandoned ship, decaying in the middle of the forest, to trying to outrun and then being trapped by a small but stubborn wildfire, the trip to Dawson provided unique experiences. Chen explained that the isolation of the wilderness made his connection to his group — their generosity and their support — all the more important as signs of humanity took on greater emotional significance. Encounters with wildlife became awe-inspiring and humbling — such as the encounter Chen had with a moose and her calf, whose presence left him shocked — while the time spent on the river reaffirmed the importance of the river and the land and made him see how this worldview should be adopted by the dominant society.
Chen's favourite and most meaningful moment, however, took place when the group took a rest on a small island near Dawson. Infrequently inhabited by people, the island was currently home to a single dog who followed and spent time with the artists. When the group eventually departed again for Dawson, the dog refused to abandon its new friends. Instead, their new canine companion continued to follow the artists, running along the banks to try and keep up with the canoes. It was a profoundly beautiful moment for Chen and leaving the dog, he admits, had him crying.
This journey, which both overwhelmed and exhilarated in the boundaries that it pushed, ultimately became a pathway to reconnection. For Chen, his time on the river helped him to see the beauty of motion that is carried out by the human body; his appreciation for what his body could do — what the human body is capable of — grew and with it he found his connection to the world and to the people around him reinforced. His time on the river also emphasized the powerful connection between art and society and the responsibility artists have in trying to make a difference in their communities.
Reaching Dawson was only the beginning of Chen's journey. Upon arrival, Chen participated in the Yukon Riverside Art festival, where he displayed his crosshatch drawings of the wilderness he experienced while canoeing. At the festival, Chen organized a communal drawing where he had members of the community draw lines of their preference and connect with each others' drawings in order to create a visual river of the community. This piece would eventually become the first of many which explores the young artist's interest in motion and human experiences.
After the CWAR, Chen went on to do two artist residencies: Awakening: Earth-Based Spirituality and Art (AE) and Ayanta: Submerge (AS).
AE, which took place on Toronto Island, was a "witch camp" themed residency that focused on the connections people have to nature, earth, air, fire, water, and the spirit. Chen says that the residency was good to do after CWAR as the talks also focused on the interconnections people have to themselves. This includes how the body works as an independent system as well as a cohesive system with others — ideas that Chen's current work explores. It was also an important experience for Chen as it further helped him to reconnect to himself and to his values.
AS, which was a one-week intensive research residency, was a "science camp" that explored the connections between science and art and the importance of integrating the two. Focusing on water, and its significance to both scientists and artists, the artist admits it was an intense but much appreciated week that really helped him in developing into the type of artist he is today. Specifically, his time at AS defined the inseparable nature of science, spirituality, and art; most of his works have different aspects of this inseparability as he applies scientific and spiritual ideas to his artistic work.
Though a majority of his work involves installation and performance pieces, Chen is also comfortable drawing, painting, and sculpting. As an artist, Chen continuously adapts his art style in order to create thought provoking pieces about transformation and movement. His art seeks understanding on how movement, such as the movement or diaspora of a society, ties into identity — into the way we see and understand both ourselves and one another. This also includes the movement of memory and its effects on future generations. Chen's preferred medium and interest is the human body and how it is affected by emotional and physical structures.
Currently Chen is involved with seven projects, a number that is quite normal for him, as he likes to keep busy. This includes a performance involving household items, collaboration with Vancouver's Chinese Gardens to develop an artist-in-residence program, as well as plans to become an artist-in-residence for a Vancouver architecture company. Chen is also researching at the UBC Beaty Biodiversity Museum for a project involving the migration of monarch butterflies. The migration of monarch butterflies interests Chen as it appears to be a memory that they are born with; butterflies are not taught or shown the path needed to migrate between places. Furthermore, butterflies hold a familial tie for Chen, as they are symbolic of his grandmother, who died on the day that he was born. As such, butterflies represent ideas of reincarnation and transgenerational memory for the artist. He hopes this project will allow him to explore the theory of the butterfly movement and parallel it to the movement of people.
In the future he plans to get his Master of Art Administration and to continue learning. He also plans on developing his writing skills further in order to see how the movement of writing transfers to the movement of people and the self.
When asked about UFV, Chen talks about his time here fondly; he states that his years with the university provided him with invaluable connections and the space to start growing into the person he is today. Specifically, his time at UFV gave Chen an idea of how to make a difference in the community and how to take charge to make those differences. UFV's current Visual Arts Association owes much of their thanks to Chen. As past president of the association, he is largely responsible in shaping it into something to be proud of. Chen also initiated a collaboration with the Cascade newspaper to start the Art of the Month publication, which later turned into the Cascade Zine, which was a monthly publication to showcase UFV student and alumni work, to offer students opportunities to practice submission writing, and to support emerging artists with their CV building. The artist further goes on to say that UFV gave him a good foundation and the right support to become a strong artist. He is grateful for his time at UFV and believes that everyone he met, from his professors to his advisors to his fellow students, were an essential part of his artistic journey.
His advice for students and future alumni of UFV?
"Being scared is part of being human. Don't be afraid to be scared. Many things in life will be difficult initially and the unknown of it all can be quite scary," he says, "but don't be afraid to experience your own weakness, for that's how you learn about yourself and breakthrough." He urges current students to reach out to their communities and never feel ashamed to ask for help. The connections you make will add greatly to your artistic journey and provide you with great opportunities, he notes. At the same time, Chen reminds students to give themselves a break and permission to occasionally miss stuff as it's more important to prepare oneself than to chase after opportunities blindly. After all, one door closing leads to another one opening.
Share This