Three Takeaways From a Business Recruitment Expert
UFV alum shares valuable philosophies and keys to career success at Nov 30 presentation
As an active alumnus, Adam Currie knows it pays to stay connected to the UFV campus and community; as a firm believer in the power of mentorship and the importance of networking, he is always ready to share his knowledge of human resources and recruitment strategies with current students. On November 30, starting at 5 pm, he'll be on the Abbotsford campus to present a workshop for all those interested in learning more about positioning candidates for their desired career.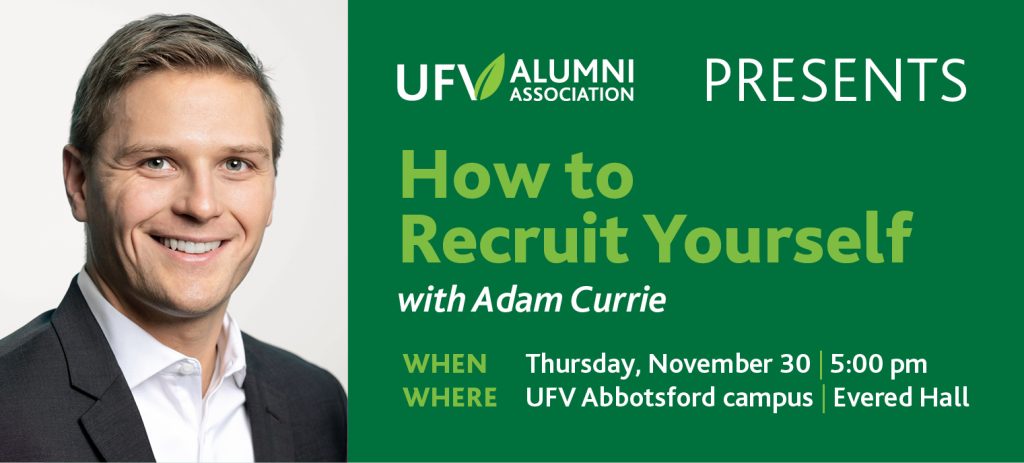 When Adam Currie, (BBA '12) first walked onto the campus of  University of the Fraser Valley in 2007, he didn't have a clue about what he wanted to study or what sort of career he wanted to pursue.
Having been involved in sports at a competitive level throughout high school, it took a while before the realization set in that he wasn't going to the NHL. "I had to figure out what I was going to do when I finished school. I had never really given it serious consideration."
A strong family belief in lifelong learning and education propelled him to continue his studies in a college or university; growing up in Abbotsford, Adam was drawn to UFV. "At the end of grade 12, a few teachers and my mom really inspired me to pursue sciences. UFV was the obvious choice for me because of their strong science program and the ability to stay close to home and family."
On meeting with an academic counsellor, it was suggested he step back from deciding on a major by exploring classes in several disciplines to figure out what he enjoyed most. He followed that advice, and it was business—more specifically, the human resources element of business—that struck a chord, along with the role of recruitment in finding the right individual at the right time to fill a position for a company in need.
Finding a need—and a niche
Today, Adam, at 36, is a Chartered Professional in Human Resources—a far cry from that first year student at UFV. He manages his time well, chatting by phone as he begins his weekly drive from the Valley to the Interior, from his work as the Director of Executive Search and  Senior Leadership Acquisition at the Fraser Health Authority to his family and home. "I absolutely love the drive. Between family, work and volunteering, it is nice to have some time to listen to a podcast or audio books, catch up with friends or colleagues on calls and even stop along the way for a hike or to jump into some cold water. Sometimes it's a lot of reflection and other times I am making plans."
And while he's navigating his path home on a clear, late fall afternoon, he shares the journey he took to get from UFV to where he is today.
As he tells it, while taking business courses and honing his interest and skills in HR, Adam worked regular shifts at a local outlet of a national pizza chain; these two activities allowed him to acquire both the technical knowledge and the capability to perfect the people skills to best deliver them.
On campus, he was a co-founder of a newly formed club – The Human Resources Student Society (HRSS), one focus of which was to get more students to enrol in human resources classes; another, to give students the opportunity to hear from business executives about job markets, to learn what employers were seeking, and to offer advice to students on how to best position themselves for the jobs and careers they wanted.
Over time, what the members of HRSS found was that neither the students nor the industry reps really understood what the other was looking for or how to communicate about those needs. "The HR club evolved and became vitally important in our discovery of the job market and what it really meant to network effectively – we discovered the secret formula. We found a niche."
Know your market, your field, yourself
Taking advantage of the access to the club's speaker program to hone his networking skills, and with access to many of the region's business leaders, Adam negotiated his own co-op experience with a mining company in Vancouver.
From there, Adam moved into his first career phase, working in human resources and recruiting and executive search, from the ground up in organizations such as Cummins Diesel, Korn Ferry and Kal Tire. In just a few short years, he polished his critical skills in communications, consulting, negotiation and networking, while at the same time growing his knowledge of the human resources industry, with the idea of filling that niche as a bridge between future employees and hiring executives.
And when the time was right, Adam started his own company. VX Search Group Inc. was launched in 2020 to specialize in the industries that drive the economies of Western Canada. "A lot of executive consulting companies are headquartered in Toronto or Montreal and the US," he explains. "Western Canada is often overlooked and underserved. My firm provided both global reach and authenticity to the business and the community in which it resided."
In 2023, the company was purchased by TMG Search Canada (Adam continues to serve as a board advisor); with little down time, he landed where he is today, at the largest regional health authority in B.C. Adam says that going from owner to employee wasn't as difficult a transition as he thought. "I really could not ask to work with better colleagues. I'm fortunate to have an inspiring executive director and peers who are willing to take the time to teach me the ways of healthcare. My team is incredible, just truly amazing people-professionals who want to make a difference. I feel very fortunate to be surrounded by such talent and purpose."
"I learned about being your own advocate as a patient and how to navigate the system. More importantly, I learned a lot of humility, patience, and the power of hope when the odds are against you."
Knowing how and when to pivot
Adam learned, from personal  experience, that even the strongest business plans and best ideas can be hindered by unforeseen circumstances. In 2020, just as he was launching his company, he began to feel unwell, with extreme physical weakness and pains; he had trouble concentrating and even more difficulty managing his participation in highly focused meetings.
Test after test was conducted until he was ultimately diagnosed with Lyme Disease which, left untreated, can leave a person with permanent, life-long debilitation and illness. A hike in the mountains and a single bite from a tiny tick threatened to derail his new venture; ultimately, it changed the course of his life.
"It took about three months and a tour of the entire health care system to get diagnosed," he shares. "I learned about being your own advocate as a patient and how to navigate the system. More importantly, I learned a lot of humility, patience, and the power of hope when the odds are against you."
Once diagnosed, Adam slowly recovered, yet it was that journey that inspired him to get into health care after selling VX Search Group. The experience also highlighted the fact that starting out a new venture requires careful strategic planning and execution, but also the ability to pivot when the plan needs to shift.
Campus program
During the November 30 program, How to Recruit Yourself, Adam will lead the discussion on management hiring practices and lessons on how to develop personal marketing strategies. "I've learned through my journey that passion is what we desire in our career, heart is what employers want from us and persistence is the connective tissue. A person doesn't have to settle for just 'any job' and certainly shouldn't  give up because the odds are stacked against you."
How to Recruit Yourself is sponsored by the UFV Centre for Experiential and Career Education, the UFV Alumni Association, the UFV Student Union Society and the Abbotsford Chamber of Commerce; to attend the session and hear from Adam Currie on November 30, please register for the program here.
Share This