Treating blindness inspires a career change
Imagine watching an old woman crying because she hadn't seen in 10 years and now can finally see her grandchildren. It's the kind of experience that sticks in your mind — that touches the core of who you are. For Dave Dhat, it's part of an experience that changed everything.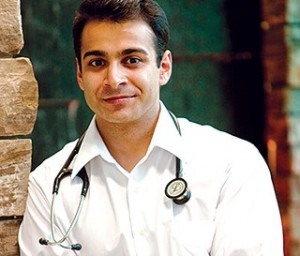 Having begun studies to become an engineer, Dave Dhat's career plans were nicely on track. But the trajectory of his life changed completely when he and his family, his parents and four siblings, decided to start a charity to help stop preventable blindness.
"My parents were visiting their homeland of India and my mum, who is a nurse, noticed that many people were suffering from cataracts, which can be easily cured," Dave says. "They heard that some physicians were working to help people for free, and decided to find a way to help the doctors continue their charitable work."
The family worked together to launch the Dhata Foundation to offer eye camps to people in need.
"It was shocking to me to witness first-hand how many people were affected by easily preventable and curable diseases," says Dave. "Helping people in India had a tremendous impact on me. Restoring sight is one of the greatest gifts."
Dave's experiences at the eye camps in India reinforced a dormant desire to pursue a career as a physician. He went to medical school at McMaster University in Hamilton, Ontario. Today, in addition to emergency room duties at Abbotsford and St. Paul's hospitals, he is also an on-call trauma physician.
Now in its 12th year, the Dhata Foundation funds more than 1,000 eye surgeries to impoverished people each year.
Dave Dhat was named one of UFV's Top 40 Alumni in 2014.
Share This