Young and generous
Venemas choose to give now so they can see the benefits their gifts provide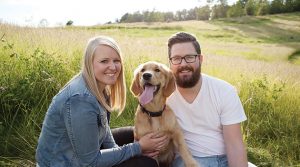 Nik and Marnie Venema are living proof you don't have to be middle -aged, established, and wealthy to be generous. These two millennials bracket either side of age 30 and still have student loan payments themselves, but they've already become significant donors to UFV, the place where they met, fell in love, and gained valuable educational and life experience.
The Venemas' generosity is creating two new student awards, through a combination of a personal donation of $12,500, as well as $500 from the RBC Foundation in recognition of Nik's volunteer service, which was matched by the university.
The two endowed leadership awards will provide $750 annually for a student involved in social justice work and $750 annually for a student studying Finance. Previously, the Venemas partnered with Justin P. Goodrich, a fellow UFV Alumni Association Chair Emeritus, to establish their first student award endowment at UFV, providing a $750 leadership award to a student who contributes through service on a governing body (Board of Governors or Senate) at the university.
Nik (BBA '12) majored in finance at UFV, while Marnie (BA '15) majored in psychology.
"UFV certainly changed our lives and prepared us to serve our community, so we want to help current students undergo the same transformation," says Nik. "We view post-secondary education as a privilege, and we are determined to stay local in the Fraser Valley and give back here."
"Giving is a lifestyle choice that for me comes back to what I think it is I am doing here on the planet," says Marnie. "For me, life is not simply about personal happiness, comfort, or consumption, but about improving the world around me. Where I put my money is one of the ways I can engage in doing that. Giving is not something I wait for, but something I can live out and choose each day."
For Nik in particular, UFV was a life-changer. He had received a big entrance scholarship to UBC and was set to study engineering, but he lost focus and didn't take advantage of that opportunity in his first year.
When he contacted UFV about restarting his education, he received a warm welcome.
"Someone took the time to advise me of a way to apply where I could leave the past behind and start fresh. I felt like I was part of the family right from the beginning, like they were looking out for me. I explored all kinds of stuff — graphic design, linguistics, economics, kinesiology, and visual arts — before landing in finance, where I really found my fit."
Once Nik was settled in as a student, he truly engaged with UFV. He volunteered with the Business Administration Student Association, worked as an economics research assistant, was involved in Student Life, and became an elected student member of Senate and the UFV Board of Governors. Upon graduation, he became involved with the Alumni Association, chairing  it from 2015 to 2017.
He was also a Supported Learning Group leader, through which he met Marnie. He was leading a calculus group, and she led a history one. Supported Learning Groups (SLG) are learning facilitation sessions for difficult courses led by senior students who have done well in the course.
Not only did they each find their future partner through the SLG program and related social events, the experience solidified Marnie's career interest in counselling.
"Being an SLG leader at UFV showed me how much I enjoyed accompanying people on their journey and creating an environment to help them connect the dots for themselves to develop skills that help them succeed in the future," notes Marnie, who is completing her MA in counselling at Trinity Western. "I also connected with many great student leaders and staff members who invested in my personal growth."
All along the way, the Venemas valued the education they were receiving.
"The education at UFV is on par with, if not better than, the undergraduate experience at major universities," Nik says. "It's such a big game changer in terms of new knowledge, skills, and experience gained, as well as valuable networking. You come in expecting to learn certain new things and you end up leaving knowing many multiples more and — more importantly — appreciating how little you truly know. Also, I left with a great appreciation for my role as a Canadian citizen and a community member of the Fraser Valley. Not to mention, I got to meet and build relationships with many great classmates, professors, and university administrators."
When Nik and Marnie got married they decided that philanthropy would be a priority at the core of their relationship.
Nik's background in finance led them to create a family foundation early on and they concentrated on accumulating capital within that foundation for several years, with a view to becoming donors early in life.
"We save and invest within the foundation, and when we see a cool opportunity to give, that's exactly what we do," says Nik. "We decided to make charitable giving part of the picture right from the beginning. I suppose it's easier when you're young to just get in that frame of mind. It's harder to add it in later when it's not part of the budget and you have to modify your lifestyle. We wanted philanthropic planning to be a conscious and intentional part of our budgeting process instead of an afterthought."
Nik and Marnie still have student debt and have taken on a mortgage. But like a mortgage, they see their student loans as something to be paid off over the long term, balancing those payments with other priorities like philanthropy.
"We're going to be reaping the benefits of our education for the rest of our lives. We see the time we spent in university as an investment in our careers, so we're not concerned if we have to amortize this investment over a few decades. We might not spend that much time paying it back, but as a principle, we look at matching that liability against the useful life of our education, so we're not in a rush.
"People should consider philanthropy when they're young because it's so rewarding. Many don't think seriously about it until they've made their millions or are approaching life expectancy. It's a pleasure to see these awards given out and meeting the recipients year after year," says Nik.
"I am excited to be part of supporting students at UFV," says Marnie. "I know that my time there was very influential in developing me as a person and directing my future career goals. I also received a lot of support through scholarships and awards that made it possible for me to get the most out of my education. I want to be able to support students who are using their education to impact their community in a positive way. Investing in education is one of the best places our money can go! It truly does have a ripple effect and then we get to be a part of all the good work that someone else's life creates."
When Marnie was considering what discipline at UFV her award might support, she chose a broader category of social justice that is available for a variety of students focusing on human service work and who are invested in social justice work.
"I think some of the most influential aspects of my degree at UFV were the sociology classes I took. Many of the things I learned in those courses have been built upon in my master's degree in counselling psychology. As a counsellor, I am interested in working alongside individuals in their healing process, but am also very aware that many of the problems my clients come in with are contributed to, exacerbated by, and even created by, larger systemic problems in our society.
"It is important to me to stand in solidarity with others who are doing important aspects of work in social justice that I cannot do. This award allows me to partner with students engaged in social justice work so together we can bring about change in our society."
Nik's journey
2012–13 — After graduation from UFV, he completed his MSc in Finance (Risk Management) at SFU's Segal Graduate School of Business
2013–15 — Hired at Financial CAD Corporation (FINCAD) as an intern doing quantitative finance technical writing; joined the quantitative research team as a financial engineer the following year, and was then brought into the business side at FINCAD as a communications lead. Took over shortly thereafter as communications manager, leading corporate communications, public relations, graphic design, social media and technical communications
2014 — Hired by UFV in the School
of Business as a sessional instructor, teaching Risk Management and Financial Engineering, Corporate Finance and Investments
2016 — Accepted an offer to join RBC Dominion Securities as an Investment Advisor
2016 — Became designated as a Chartered Investment Manager
2017 — Accepted an offer to join the Lonny Andrews Consulting Group of RBC Dominion Securities as an Associate Advisor, to learn under a great mentor and help educate and empower families here in the Fraser Valley to meet their financial and philanthropic goals.
Marnie's journey
Right after graduation, Marnie worked in a full-time position as household manager at Mercy Canada and then began her MA in Counselling Psychology.
She has worked in a variety of paid and internship positions over the past two years:
Trinity Western University Wellness Centre (Individual and Group Counselling Internship)
Trinity Western University Career Centre (Career Counselling Internship)
Lindsay Faas Counselling Practice (Trauma Internship)
Fraser River Counselling (Counselling Internship)
Ishtar Transition Housing Society (Group Counselling Internship)
Counselling Psychology Bereavement Lab at Trinity Western University (Research Project)
Weekend Supervisor at Mercy Canada
How you can be a young philanthropist
Not everyone has the means to create an endowment, but here are some ways you can give back to UFV:
Become a UFV Ripple Maker monthly donor
Volunteer on the UFV Alumni Association,
or a UFVAA committee
Set up a named award that you fund annually (min. $750/year)
Contribute any amount to a UFV Changing Lives, Building Community scholarship, bursary
or leadership award fund
Contribute your expertise and industry knowledge by joining a program advisory committee or mentoring a student in your field
Donate to the UFV Student Emergency Fund
Share your story and inspire others
Share This