Young Distinguished Alumni 2023: Eryn Braley advocates for Indigenous Peoples in public health setting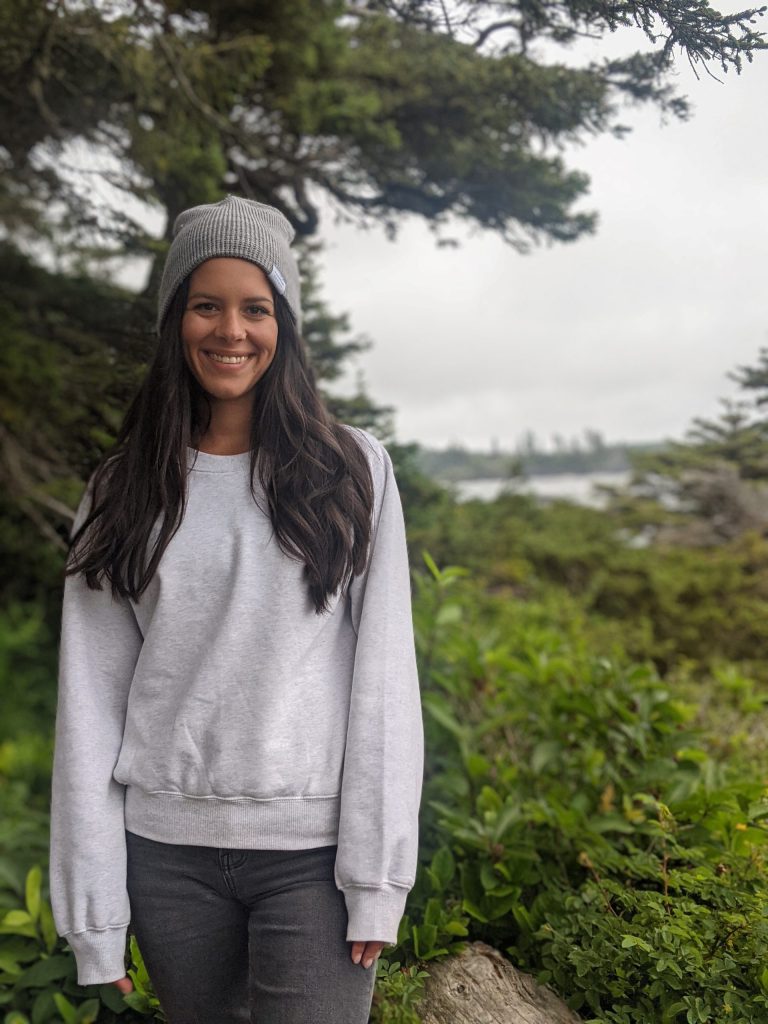 Eryn Braley is thankful to have chosen a career in Indigenous public health that allows her to connect with her Indigenous identity.
"I am so appreciative of the Indigenous mentors and peers that have guided me in my career and personal journey. Through teachings, connection, and ceremonies, I am connecting with who I am as nehiyaw iskwew, a Cree woman."
In recognition of her dedication and innovation in ensuring Indigenous Peoples are heard and respected within the health care system in British Columbia, Eryn (BSc '19) is the 2023 recipient of the UFV Young Distinguished Alumni award.
Eryn, a member of the Saddle Lake Cree Nation, is passionate about embedding anti-racism and cultural safety, truth and reconciliation, and inherent Indigenous rights within the health system.
"Anti-Indigenous racism is pervasive within the healthcare system, at both structural and interpersonal levels. My career path is allowing me to make a difference in the health and wellness journeys of Indigenous Peoples by ensuring the accessibility and availability of culturally safe and racism-free health care," she says.
Dr. Danièle Behn-Smith, Deputy Provincial Health Officer (PHO) for Indigenous Health, has observed Eryn's work. She was a mentor during Eryn's practicum as a Master of Public Health student at UBC. Eryn then joined the Office of the PHO as the inaugural Manager for Indigenous Health Research and Writing, before moving to a new role as a program manager for Indigenous health at the Provincial Health Services Authority.
"Eryn has brought positive change for Indigenous Peoples at local, provincial, federal, and academic systems," says Behn-Smith. "She is a role model for other professionals and students, particularly young Indigenous people and women, and a strong leader within the health system."
While a master's student, Eryn focused on a project aimed at helping UBC's School of Population and Public Health provide a safe environment for all Indigenous Peoples.
Outside of her main job, Eryn is a facilitator with the UBC 23/24 Indigenous Cultural Safety program, and is an avid member of the Indigenous women outdoors community. She has had continued success in research with the Cedar Project, a community-based cohort study addressing HIV- and HCV-related vulnerabilities in young Indigenous people who use substances in Vancouver and Prince George.
She co-led an invited narrative review on the Experiences of Indigenous Peoples living with HIV/AIDS globally calling for the eradication of Indigenous-specific racism and support for Indigenous-led responses to HIV that was recently published in the Lancet HIV, the world's leading journal for HIV/AIDS research.
She is also collaboratively leading an analysis on the experiences of racism in young Indigenous peoples who use substances. The abstract has been accepted to the Healing Our Spirits Worldwide conference, an international conference for Indigenous health leaders.
Over the course of her UFV studies, Eryn discovered a passion for scientific research and switched to from arts to sciences. Her current work in public health draws on both arts and science, as well as Indigenous ways of knowing.
As for the future? She wants to grow as an Indigenous health leader.
She is honoured to have been chosen for the Young Distinguished Alumni award so early in her career. And she's not the only UFV alumna in her family. Her mother Traci completed a BA in Child and Youth Care when Eryn was young, providing a role model for pursuing education. And her twin sister McKenzie, who started at UFV at the same time as Eryn, finished a BA in psychology and is pursuing her PhD in clinical psychology at Simon Fraser. Her brother Kyle has started general studies at UFV in pursuit of a career in artificial intelligence.
Share This