BC Lions Student and Alumni Rush Night
September 28

BC Place Stadium, 777 Pacific Blvd, Vancouver, BC V6B 4Y8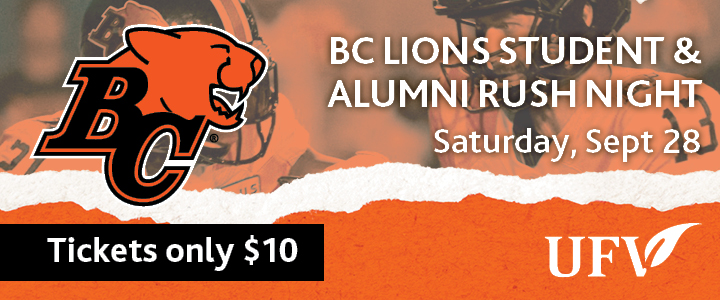 Represent your University at the BC Lions Student & Alumni Rush Night. Join UFV alumni and students to celebrate the return of the school year on September 28 as the BC Lions take on the Montreal Alouettes. Game tickets go for only $10. Free transportation and t-shirt included for the first 250 tickets.
Wear your green and UFV swag to represent in UFV's section of BC Place. Let's roar the loudest with UFV spirit!
One lucky student will get the chance to 'Kick to Win' $20,000 towards their tuition at the game.
Start the celebrations early. Join us at the Rush Night Tailgate Party from 5-7 pm which will feature the Felions Dance Team, MEI Marching Band, and the Lions Hype Team out on the Terry Fox Plaza. Enter to win BC Lions swag at the UFV tent!
There are limited tickets available so reserve your spot now.
Single ticket – $10 | limit of 4 per person
Tailgate Party at 5 pm | Kickoff is at 7 pm
FREE! A green UFV t-shirt and optional bus transportation* from UFV campus
*Bus will be leaving from Abbotsford campus, outside Envision Athletic Centre at 5 pm.
Tickets will be available at will call. For more information, contact joe.johnson@ufv.ca.
Share This