Honorary Life Membership Ceremony for Eddie Gardner
November 08

Gathering Place - Chilliwack Campus
Honorary Life Membership Ceremony for Eddie Gardner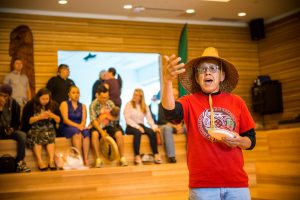 Thursday, November 8th
Gathering Place (Room A1457), Chilliwack UFV Campus
7:00pm
The Alumni Board of Directors may confer an Honorary Life Membership on any person who, in its opinion, has made an outstanding contribution to education.
On September 26, 2018 the Board passed a motion to award this honour to someone who has made outstanding contributions to the University of the Fraser Valley – in particular with respect to supporting Indigenous education of Stó:lō culture, heritage and traditions with the UFV community and beyond. The Board felt it appropriate to extend its thanks and to demonstrate our appreciation by conferring this designation upon Eddie Gardner.
Eddie Gardner is a member of the Skwah First Nation. He graduated from the University of Prince Edward Island in 1973 with a Bachelor of Arts in the Social Sciences. Eddie has worked for a variety of federal, provincial, First Nation & private sector employers in designing, coordinating, directing and delivering a broad range of programs and services from an Aboriginal world view.
After Eddie received his degree, he worked a communications officer for the Laurentian Alliance of Metis & Non-Status Indians. He has also worked in the Indian Friendship Centre in Montreal, in Justice Canada as an Executive Director for the Native Courtworker Association of Quebec and as Band Manager of Neskonlith First Nation to name a few.
Upon returning to Stó:lō territory in June of 1994, Eddie devoted time and energy to help the revival of his Halq'emeylem language.
Eddie is one of the UFV Elders-In-Residence at the University of the Fraser Valley and the Nicola Valley Institute of Technology and conducts month Sweat Lodge ceremonies for students, faculty and community members. He also works part time with the Indian Residential School Survivors Society as an Elder.
Embracing the teachings of the Medicine Wheel, Eddie enjoys promoting and encouraging activities that lead to personal well-being, and cross-cultural understanding and respect.
Eddie Gardner is also President of the Wild Salmon Defenders Alliance and devotes a lot of his time advocating for the well-being of wild salmon and their habitat.
Eddie is a respected elder and advocate for Indigenous issues in higher education, his pro-active work in the truth and reconciliation process and the support he has given Indigenous (and all students) is invaluable.
We are honoured to welcome Eddie to the UFV alumni family and hope that you join us as we celebrate him with a traditional Stó:lō ceremony.
Share This