TD Webinar Series: Starting and Operating a Business
December 08

Online via Zoom

What this presentation covers:
Some things to think about to set yourself up for success when starting or operating a business:
Clarifying what you want to do
Buying vs Starting your own business
Separating your business and personal finances
Finding a mentor
Some of the legal structures you might consider when structuring a business
Writing a business plan; the approach, a sample template and details to think about including
Some tips for determining your upfront and ongoing financial needs and a discussion of the difference between profits and cash flow
Payment processing and some of its benefits and more.
This presentation is for general information purposes only and is not to be relied on for any kind of professional advice, including financial, business, or legal advice. Ensure that you obtain specific financial, business and/or legal advice from a qualified & licensed professional(s) for your unique financial circumstances before you make any financial decisions for you, your family and/or your business.
This event is open to students, staff, and alumni.
Online via Zoom
December 8, 2022
12:15-1:15 PM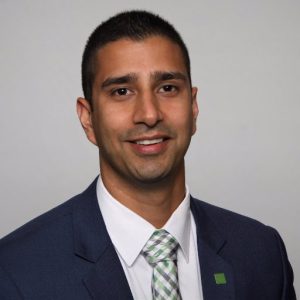 Robby Aulakh, (BBA '13), (MBA '20)
Area Manager, Small Business Banking
TD Canada Trust
Robby graduated from UFV in 2013 with a Bachelor of Business Administration and a minor in Economics.
In 2020, Robby graduated from Thompson Rivers University with a Master of Business Administration, often still visiting the UFV library to study for his MBA.
Robby has always had a passion for helping others, whether it be in customer facing in roles such as a Financial Advisor or developing colleagues in Management roles such as Branch Manager. It has been two years since he has decided to take on a new challenge and gain more breadth in a new business segment, Small Business Banking as an Area manager. He now leads a team of 9 Account Managers across the Fraser Valley. While not working, Robby enjoys travelling and exploring beautiful B.C. with his family.
Share This