UFVAA x BCAAC x UFV SASI x The Reach Gallery Museum presents: Exploring Diversity
A UFV alumni dialogue on culture, ethnicity and identity through the arts
October 22

The Reach Gallery, 32388 Veterans Way, Abbotsford, BC V2T 0B3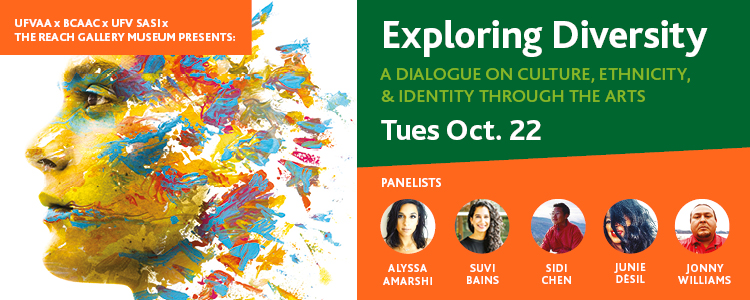 The arts open spaces for the exploration of diversity, with different perspectives claiming inclusion as an intrinsic value. Sharing ideas that bring to light both professional and personal experiences, five artists will give examples of leadership/best practices and future work that needs to be undertaken in the field.
Join us on Tuesday, October 22nd, at The Reach Gallery Museum as our five panelists navigate through a conversation about Arts as an all-encompassing field of work. The discussion will explore experiences of diversity through the work and lives of each panelist.
Tues, October 22
The Reach Gallery
32388 Veterans Way, Abbotsford, BC V2T 0B3
Event schedule
5:30pm: Registration & refreshments
6:00pm: Panel discussion & Q&A
7:15pm: Networking & refreshments
Registration information
This event is free and open to the public.
The public is welcome to register at the door. UFV alumni, students, staff, and faculty – RSVP here.
Guest panelists:
Alyssa Am

arshi
Alyssa is a Canadian of Indo-Ismaili heritage whose parents immigrated from Tanzania. She has always been interested in diverse types of cultural expression, especially through the lens of art and dance. As a preteen, her passion for performing and expressing grew while she was working with Bollywood dance companies. In high school, her friends from the West Indies exposed her to Dancehall and STEP (a form of percussive dance). By the time she entered university, she was completely enamored with both the movement and culture behind these dance forms. Despite a rigorous post-secondary schedule, Alyssa would find every way to incorporate artistic expression into her life through training, performing, choreographing, and creative directing. After moving to Vancouver, she trained with SOULdiers Dance Company and Ketch Di Vybz where she further fortified her understanding in street dance and love of Dancehall. With mentors who fostered her immense passion, she went on to dance on stage with award-winning A Tribe Called Red, perform for the acclaimed TED Talk celebration party, move audiences at Bass-coast and Shambala, win regionals at the prestigious Ismaili Diamond Jubilee Art Showcase, win Vancouver's first Dancehall Battle, and be featured in media from art galleries to MTV to the silver screen. Alyssa was also invited to be on a panel for the City of Vancouver: Joy + Resilience in Community-Engaged Practice. Since its inception, she codirected the trailblazing collective "Immigrant Lessons" with founder Kevin Fraser. Her vision as a second-generation immigrant, and highly sensitive woman of colour, through her collective "Her Tribal Roots," is to create more work and discussion around the issues of community, race, gender and mental health.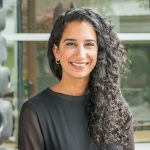 Suvi Bains
Suvi Bains is a photographer and expressive art therapist, and currently works as a Curatorial Assistant at Surrey Art Gallery. She credits being born and raised in Abbotsford, BC within a South Asian Punjabi family for her passion to interrogate multiple identities, material history and transnational belonging as a diasporic family. Her upbringing resonated with heated debate, cultural travels, heritage exposure, social service, and multi-linguistic appreciations. She is currently completing her MA at European Graduate School in Switzerland and holds a BFA from University of the Fraser Valley and majored in Photography at the University of South Wales. Bains' exhibit KESH was featured at the Reach Gallery. In KESH, she explored the outer boundaries of a Sikh's private and personal article of faith – kesh, or Sikh men's un-shorn hair. Her exhibit at the Sikh Heritage Museum, (Mis)representation): looked at Sikhism from a feminist perspective. Bains follows her passion as a photographer, and as an expressive art therapist with a keen interest in exploring personal narratives that reflect on the impact of stereotypes and ensuing stigmas in the Sikh community, with which she has great affinity. Her work provokes empathy, cultural appreciation, and understanding and cross-cultural reconciliations. As an expressive art therapist, she has worked with adults, children, and refugees, and uses her photography skills as a modality for healing and personal exploration. She also works with marginalized communities who are caught between multiple identity paradigms that (try to) inform, (ask to) conform, (look to) reform and (hope to) transform everyday lives.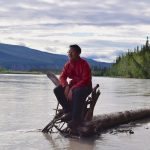 Sidi Chen
Sidi Chen (Sherlock Chen) is an international traveling queer artist whose practice focuses on archiving the locational identities through the body and its surrounding environment to inquire about the constructs of social structure and humanity. Inspired by more than a decade of traveling experience and extensive study and research on various cultures around the globe, Chen is interested in how the diversified resources and systems could innovate the developments of the community and relationships amongst different social groups. Chen graduated from the University of the Fraser Valley in 2018 with the Bachelor of Fine Arts and the honor of distinctions and was the Board Director of Abbotsford Arts Council from 2017-2018 as well as the education program developer and facilitator at The Reach Gallery Museum. Currently residing in Vancouver, Chen is a practicing artist and an arts administrator for community arts development.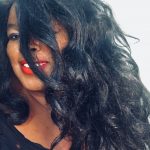 Junie Désil
Junie Désil is a Haitian/Canadian poet who has performed at various literary events and festivals. Her work has appeared in Room Magazine and PRISM International. Junie's forthcoming debut poetry collection will be published in 2021 by Talon Books. Junie currently works on the xʷməθkʷəy̓əm, Sḵwx̱wú7mesh, and səl̓ílwətaʔɬ (Unceded & Ancestral Musqueam, Squamish & Tsleil-Waututh territories) and lives on Qayqayt First Nation (New Westminster), juggling writing and life.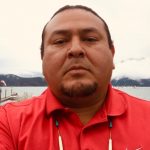 Jonny Williams
Jonny Williams is a stó:lō artist from the Cheam First Nation. Jonny is a self-taught artist; he has always enjoyed drawing since he could hold a pencil and began carving 18 years ago. Jonny made his own knives and then picked up a piece of wood and began to cut. Today, Jonny asks questions of other artists to get ideas or other ways to carve. Art is a passion, habit and a way of his life.
Moderator: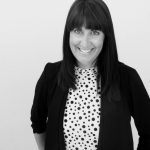 Laura Schneider
Born and educated in Ontario, Laura Schneider has held curatorial and executive roles in Canadian arts organizations from coast to coast. Currently, she is the Executive Director of The Reach Gallery Museum in Abbotsford, BC. Laura has a strong record of leadership and service in the cultural sector, and has worked in a range of settings including academic and municipal museums and galleries, and grassroots non-profits. She has held roles as the Director/Curator of the Cape Breton University Art Gallery, co-founder and chair of the Lumière arts festival in Sydney, NS, and as a member of Nova Scotia's provincial arts council, Arts Nova Scotia. Laura holds degrees in Art History from Queen's University and Carleton University, a Bachelor of Education degree (University of Ottawa), and professional certificates in museum leadership (Kellogg School of Business, Northwestern University, IL) and collections management (University of Victoria, BC).
Share This