Alumni Association Annual General Meeting elects new directors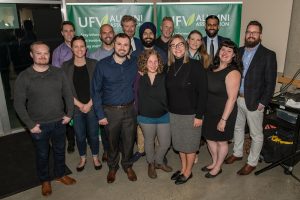 ABBOTSFORD – At the Annual General Meeting held on Wed, September 26 the membership awarded Eddie Gardner and Martin Kelly with Honorary Life Membership awards and said a fond farewell to three Directors.
Melissa Kendzierksi, BA '10 has served on the alumni board since January 2011, making her the longest serving current Director, having served four terms. During her time on the Board, she has chaired the Mentorship committee and served as Associate Vice-Chair on the Executive Committee. As Chair of the Mentorship Committee, Melissa brought forward and implemented Solve It! UFV's Community Innovation Challenge, which ran for two cycles. Melissa also previously served as the Alumni Association representative on UFV's Senate. Over the years Melissa participated in numerous events and activities representing the Association.
Tricia Taylor, AA '03, BA '10 served on the alumni board since October 2013, and has served two and a half terms. During her time on the Board, Tricia was Chair of the Awards & Rewards committee, where she worked to develop a rewards system of alumni merchandise swag for the various alumni, guests, and volunteers that contribute to the activities of the Association. Tricia also led the Distinguished and Young Distinguished Alumni Award Selection Committee, where she streamlined the nomination process and helped to select and honour outstanding alumni. Tricia served as the alumni representative on the Honorary Doctorate Selection two years in a row.
Danielle Synotte BBA '16 has served a two-year term on the alumni board. During those two years, she has served on the Mentorship Committee, where she assisted with the second cycle of Solve It! UFV's Community Innovation Challenge.
The Alumni Association welcomes new directors-at-large:
Seamus Heffernan, MA Crim '17 – two year term
Kevin Renso, BGS '09 – two year term
Joel Feenstra, RSE '05, Joe Johnson, BCIS '11, and Ashley Ward-Hall, BA '16 were re-elected for two year terms.
Share This