Alumni lead UFV Board of Governors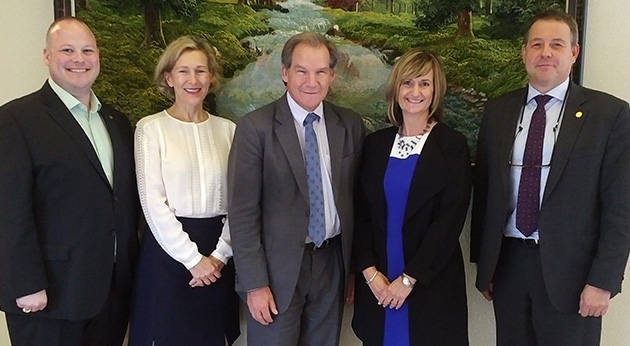 For the first time in the history of the University of the Fraser Valley, all four members of the Board of Governors' Executive Committee are alumni of UFV. The Board determined the committee's 2017/18 membership at its June 16 meeting in Harrison.
"I extend sincere congratulations to our alumni serving on the UFV Board of Governors' Executive Committee, as well as to interim President Jackie Hogan, also an alumna," said UFV Alumni Association Chair Nik Venema. "We are so proud to see UFV alumni leading the university through this critical time. They will serve along with outstanding community representatives, and elected faculty, staff and student members of the Board, to give excellent perspective and insight into governance decisions."
In 1979, Board Chair John Pankratz began his first year toward a university degree at what was then Fraser Valley College, earning enough credits to qualify as an alumni. Pankratz is a Certified Professional Accountant and also holds a Bachelor of Business Administration from Simon Fraser University.
First Vice-Chair Len Goerke holds a Bachelor of Arts (Geography, History) from UFV, as well as a Master of Arts in Conflict Analysis and Management from Royal Roads University.
Second Vice-Chair Justin P. Goodrich holds a Bachelor of Arts in Political Science and an Associate of Arts in Media & Communications Studies, both from UFV. He also earned his Master of Laws in Diplomacy & International Law from Lancaster University.
Both Goerke and Goodrich previously served on the UFV Alumni Association board as well.
And board member Ann Marie Leijen holds a Bachelor of Science in Nursing from UFV, as well as a Master of Business Administration in Healthcare from the UBC Sauder School of Business.
Incoming interim President Jackie Hogan, an ex-officio member of the Board Executive Committee, is also a UFV alumna, completing the sweep. A Certified Professional Accountant and graduate of the University of Calgary Bachelor of Accounting Science program, Hogan also holds a Diploma in Business Administration from UFV.
The Executive Committee of the Board of Governors is responsible for overseeing collective bargaining, presidential searches, performance reviews of the president, and other duties as outlined in its Terms of Reference.
For more information on the Board of Governors, visit ufv.ca/board.
Share This