February blood donation clinic exceeds target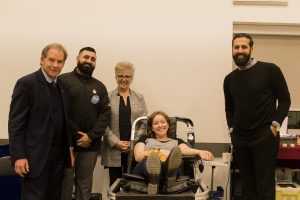 ABBOTSFORD – The University of the Fraser Valley (UFV) Alumni Association, alongside the UFV Student Union Society and UFV Biology and Chemistry Student Association (BCSA), have joined forces to bring Canadian Blood Services to the UFV campus on a regular basis. Regular blood donation clinics now take place at UFV in November and February each year. The Student Union Society provides space for the clinic, while the BSCA recruits student volunteers for pre-screening, and promotes the blood donation clinics within the classroom and greater student body. The UFV Alumni Association provides logistical and promotional support for each clinic.
The UFV Alumni Association has formalized a commitment to saving lives by joining the Partners for Life program. Partners for Life is a nationwide program that allows community organizations to work with Canadian Blood Services. The program gives individuals in the UFV community the opportunity to help save lives by donating blood, platelets, and plasma. Individuals pre-register to donate online while using a Partners for Life ID code and can label their donation as attributed to the UFV Alumni Association's Partners for Life team.
The previous UFV blood donation clinic held in November had received 44% deferrals, which are individuals who were told they could not donate for various reasons. However, by implementing pre-screening with student volunteers, the number of deferrals has lowered to 18%. At the recent February clinic, there were 109 donations which is one donor over the target. Thus, collections were 101% of target which is a substantial increase from the last collected donations which was 88%.
All members of the UFV communities are invited to take part in the Alumni Association's life-saving commitment by registering to donate with partner ID: UFVA480702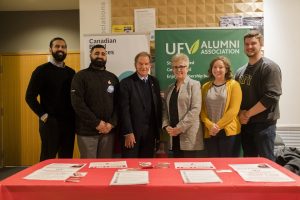 Share This