New look for UFV Alumni Association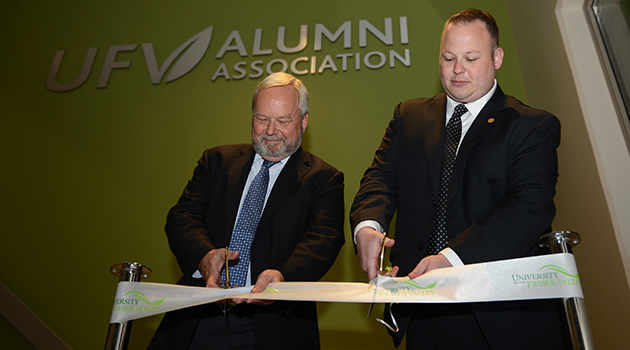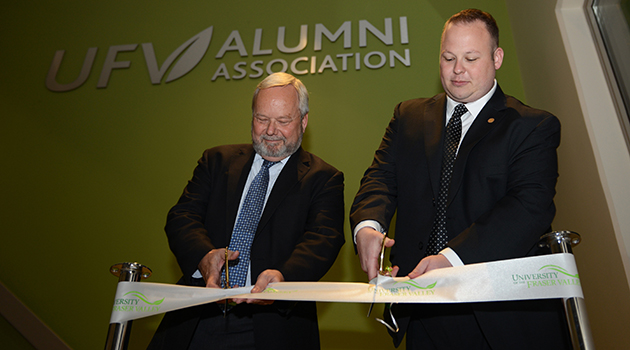 ABBOTSFORD – A new logo and look was unveiled when the UFV Alumni Association held its annual general meeting on Sept. 24, 2014.
In partnership with UFV, the association introduced UFV's renovated Alumni Hall near the entrance of Building B on the Abbotsford campus. The revamped hall now celebrates alumni success from floor to ceiling, featuring three flat-screen TVs highlighting exceptional UFV alumni beneath a large, green art piece peppered with alumni headshots and modern design.
A new coat of green paint along the hall's staircase leads to the UFV Alumni Association's fresh new logo, replete with a stylistic leaf growing from the acronym 'UFV'.
Nancy Armitage, UFV Alumni Engagement manager, says the new look in Alumni Hall is in many ways symbolic of the fresh direction of the UFV Alumni Association's board of directors, under the leadership of chair Justin P. Goodrich.
"The Alumni board has met the challenge of revitalizing the association to meet the future with renewed energy and enthusiasm. It's fitting that the new logo is equally fresh and active," she says.
Goodrich agrees, saying, "We are very excited about our new look, and our new vision. The time has come to elevate the association and to further engage both alumni, and current students."
(See photos here.)
Share This