Plasma Clinic Opens to Donors in Abbotsford
UFV's alumni have been an integral lifesaving force in the Fraser Valley since 2012. Over the course of 11 years, over 1,200 blood donations were made through UFV and the Alumni Association. We've been proud to host blood donor events on campus, but a new need has arisen, which means a fresh opportunity for UFV alumni to roll up their sleeves.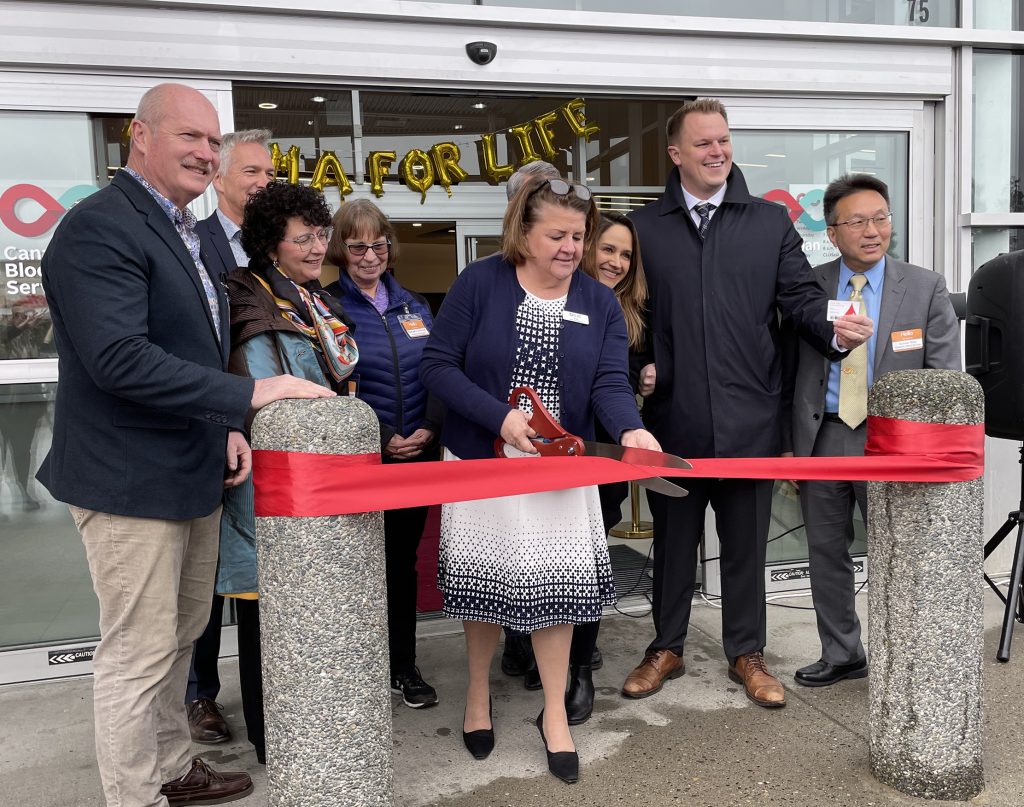 On April 11, 2023, Canadian Blood Services celebrated the opening of its sixth dedicated plasma donor centre, located in Abbotsford's West Oaks Mall. The grand opening was a lively event, with donors and partners coming out to celebrate the new centre. Inside, donors were already giving.
Plasma is the protein-rich liquid in blood that helps other blood components circulate throughout the body. More than half (55 per cent) of your blood is plasma. It protects your body from illness, infection and excessive bleeding, and it can be used for transfusion or to make medications.
Plasma donated in Abbotsford is made into lifesaving medications for patients in Canada — many have no other treatment option. "Immunoglobulins are the most widely used medications made from plasma," says Johanna Aguirre, business development manager for the new plasma donor centre. "These lifesaving medications treat patients with immunodeficiency, autoimmune and neurological disorders, among other medical conditions."
To highlight the importance of plasma and these medications, Barbara Schmidt spoke to the group about how plasma donations have allowed her to live a good life. Barbara was born with an autoimmune disorder and requires immunoglobulin every two weeks. She thanked everyone present, since without their donations she would not have the same full life she currently enjoys.
However, there has been a growing need for plasma donations, according to Aguirre.
"There is a global shortage of these medications and the plasma needed to make them," she says.  "As these medications are in demand for a growing number of conditions, thousands more plasma donors are needed to meet patients' needs in Canada today and in the future."
With the new centre, Canadian Blood Services is collecting more plasma to ensure patients like Barbara continue to have access to the medications they depend on.
"Abbotsford was selected for our generous population, and market demographics," she says. "We have a strong local donor base who have historically supported and have been a vital contributor towards blood donation."
She referred to organizations such as UFV, the Sikh Nation, and RBC, all of whom are excited to begin their journeys as plasma donors.
Donating plasma is a lot like donating blood.
"While you're resting in a comfortable bed, a machine draws blood from your arm," says Aguirre. "The machine separates your blood out to collect the plasma and the rest of your blood is returned to you. Donating this way means you can donate more often. This is because the plasma portion of your blood replenishes within days."
One thing she stresses, though, is the amount of time required for donating plasma. A plasma donation appointment requires more of a time commitment than blood donation, but it's well worth it.
"The entire appointment ― from being welcomed by friendly staff in a new bright space to walking away with lots of tasty snacks ― normally takes less than 90 minutes," she says.
With the opening of this new centre in Abbotsford, we hope you all have the chance to visit and try donating plasma. With a new centre now open, this means donations can happen during regular operating hours.
The Abbotsford plasma donor centre is open from Monday to Saturday and appointments to donate plasma are available now.
If you're able to donate blood, you should be able to donate plasma. In fact, some people who can't donate blood can donate plasma. To check your eligibility to donate plasma and book an appointment, download the GiveBlood app, call 1 888 2 DONATE (1-888-236-6283) or book now at blood.ca.
And for future blood donation opportunities, keep an eye on future partnerships with UFV and Canadian Blood Services for events in Chilliwack.
Share This