Seeking Label Art Submissions for the 15th Anniversary of Alumni Commemorative Wine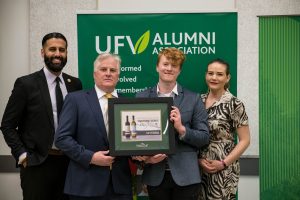 FRASER VALLEY – It's that time of the year again! We are looking for one creative alumnus/alumna to become part of a growing annual tradition.
It is the 15th year of the Alumni Commemorative Wine and we want you to be a key part of this year's celebration.
The Commemorative Wine series promotes awareness of the UFV Alumni Association while generating revenue for programs, services, and scholarships to students. This allows us to showcase the talent of a UFV alumnus/alumna each year.
The wine label will feature your artwork (front label) and brief biography of yourself (back label).
The wine is produced in honour of the graduating class and purchased as graduation gifts, memorabilia, and prizes; and served at UFV faculty, staff, and community gatherings.
What are you waiting for? Gain exposure for your artwork and become part of a growing annual tradition.
For submissions please provide:
Two images of artwork to be featured on the front labels, one for the white wine and the other for the red wine
A brief biography of the artist to be included on the back wine label (70 – 90 words)
Year and program of graduation
A brief description of the artwork (50 – 70 words)
Criteria for submission:
Submit digital reproductions of artwork created by alumni of UFV, University College of the Fraser Valley or Fraser Valley College
Preference will be given to an alumnus/alumna of the Graphic Design or Visual/Fine Arts programs or an alumnus/alumna who is currently employed in the field
Artist agrees to allow UFV to crop digital images of the selected artwork should this be necessary for designing the wine label
Additional information:
Submission of artwork is limited to three (3) pieces. The submission may include any artwork that can be digitally reproduced – digital reproductions of paintings, photography, sculpture and computer generated artwork. Each digital submission should take into consideration that the image will be rendered onto a wine label with a portrait orientation. Please see the UFV Alumni Association website for the previous year's labels
The wine labels are designed and created by UFV's designers
The selected artist is requested to attend the "Launch Ceremony" in April/May (date TBA) and will receive two (2) complimentary tickets for the event, 2019 Convocation, and any other UFV Alumni Association events
Submissions, which meet the criteria outlined above, will be eligible for selection for an additional two years
All proposals must be submitted by Friday, January 24, 2019 to:
UFV Alumni Relations Office
33844 King Road
Abbotsford, B.C.
V2S 7M8
Tel: (604) 557-4008
By email: alumni@ufv.ca
Share This