The Cascades Hall of Fame — Kayla Bruce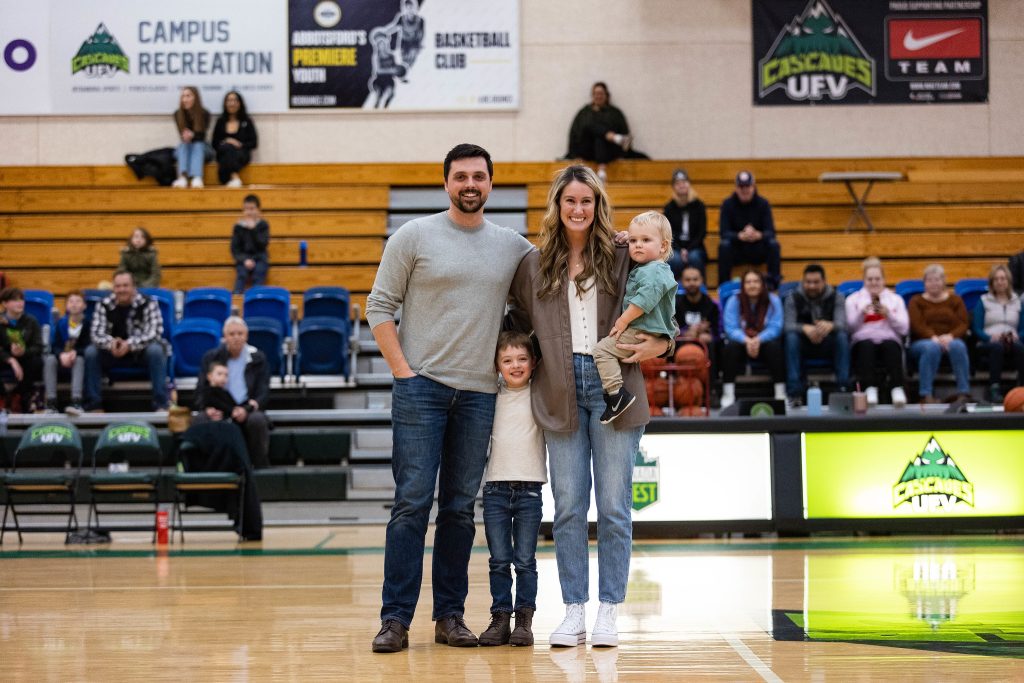 "2012 feels like a lifetime ago."
Since her time with the UFV Cascades volleyball team, Kayla Unger (nee Bruce) has married, had two kids, and completed her Teacher Education certificate at UFV.
This year her achievements with the UFV Cascades have been immortalized in the UFV Cascades Hall of Fame alongside soccer goalkeeper Mark Village, and the 2001-02 men's basketball team.
"It feels surreal," says Unger. "I am extremely honoured to be recognized."
Unger is one of the most-awarded athletes in Cascades history. She was named a PACWEST conference all-star three times, and PACWEST female athlete of the year twice. A two-time CCAA All-Canadian and national tournament first team all-star, she saw her efforts culminate in 2013 when she was named CCAA women's volleyball player of the year, and CCAA female athlete of the year across all sports.
Despite her time with the Cascades ending a decade ago, her volleyball family and the sport itself are never far away.
"I still keep in touch with many of the girls I played with at UFV," says Unger. "I have attended their weddings and now get to meet their babies. Most recently, I watched Nicole Blandford (nee Olar) marry her sweetheart in September. Brittany Stewart (nee Leinweber), our libero, actually delivered my first son Wesley and would have delivered Jack as well, but she had her own baby before he was born!"
She still reflects fondly on the times they shared together as a team, especially those quiet moments between games when they formed their long-standing friendships. But one that stands out for her was their monumental victory at Lloydminster, her final game for the Cascades.
"For myself and the other fifth-year players, it was so amazing to have our last game ever be so monumental for ourselves and the program," says Unger. "Not to mention I got to win alongside my sister Chantal."
For her achievements, Kayla Unger has now joined the league of hall of famers such as DAA winner Matt Douma (BSN '06) and Tracy Macleod (Cert '94).
"I am honoured to be inducted into the Hall of Fame," says Unger, "but it is important to remember that it was my teammates throughout all my years of volleyball that allowed me to have so much success. I would list them all by name if given the room because they are all so special to me. They are the reason I have been inducted."
Unger played high school and club volleyball in Abbotsford. She then spent two years playing at Briercrest Bible College in Saskatchewan before transferring to UFV for her final three years.
"Shane and Maryanne Donen were there from the start and gave me the chance to play when I was first trying out for volleyball as a competitive sport," says Unger. "Greg Russell almost didn't take me on his club volleyball team because I was goofy footed. Thank goodness he fixed that! Nolan Weinmaster (Briercrest College) gave me the chance to play even though I started late in the year (October) and he instilled in me the confidence to play and compete at the college level. And Dennis Bokenfohr gave me the opportunity to come and finish out my last three years of eligibility at UFV.
"I hope they know how much they have impacted my life."
Kayla Unger now shares her skills and passion with the next generation. As a high-school physical education teacher at Rick Hansen Secondary, she does her best to inspire a new generation of players to love physical activity and sport.
"I love the sport of volleyball, so it is fun to be able to pass on that passion to students who I work with in the school and coach," says Unger. "I encourage those who express interest to try out for club teams. Playing volleyball opened so many doors and allowed me to create lifelong relationships. It was a huge part of my post-secondary experience and could also be for many of the kids that I teach."
For her own goals, Unger hopes to be able to run a half-marathon or take her family back-country hiking.
"It has been tough rehabbing my body after giving birth twice, but I enjoy challenging myself," says Unger.
Share This