The Cascades Hall of Fame – Mark Village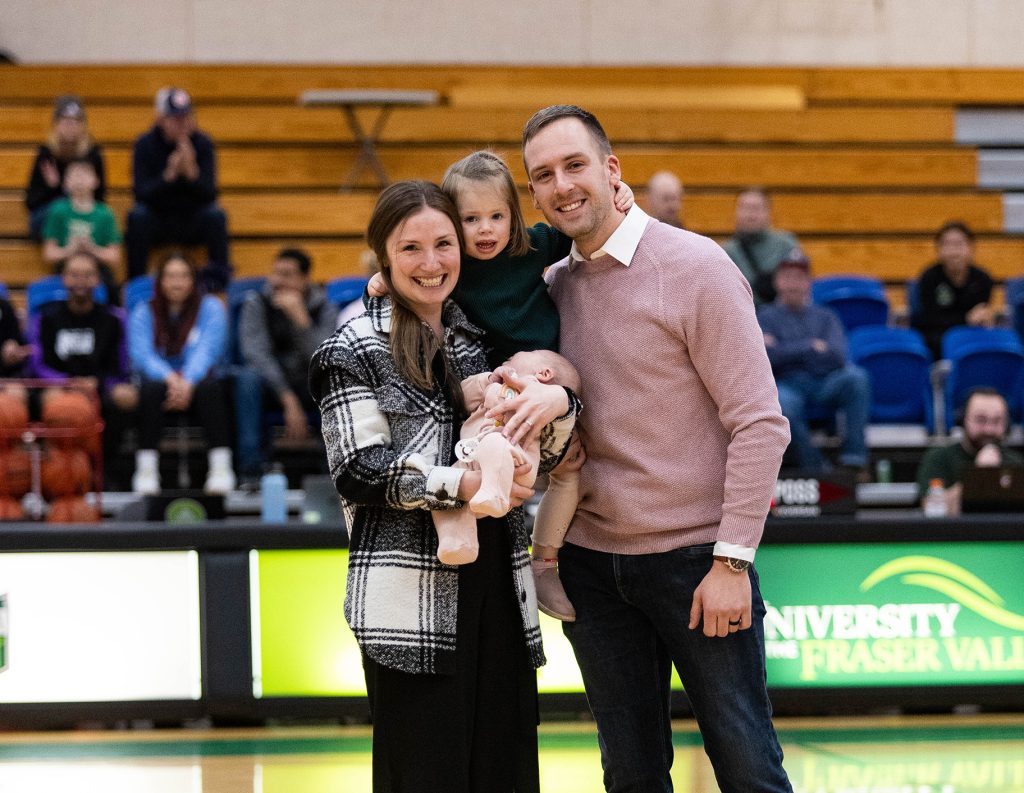 Goalkeeping, for Mark Village, started when he was around 10 or 11 years old. By then, he'd already been playing soccer for five years.
His team members would rotate roles, and during the indoor tournament at Abbotsford's Tradex, he found his way in front of the net. This is where his passion began.
"This indoor tournament was played on small fields with five players on each team; this meant lots of action for the goalkeeper," says Village. "I loved it! Throwing your body around trying to save a ball that is flying towards you, diving at the feet of other players, and kicking the ball really far were all big selling features. After that, I had found my position and I stuck with it."
Village was inducted into the Cascades Hall of Fame this year alongside Kayla Bruce (now Unger) and the 2001 men's basketball team. He accepted the recognition with his family present alongside the other inductees at the January 14 men's basketball game.
As Village reflects on his youth career he stumbles across a funny coincidence.
"I started playing for the Abbotsford Soccer Association and my U5 team was called the Eagles," says Village. "This is back when we had the infamous reversible red and white jerseys. The orange slices at half time were a big hit, too. Thinking about it now, that first team when I was five was called the Eagles and now the new Vancouver FC has the eagle as its mascot."
Village has made a full career out of playing soccer. He has been the goalkeeper for the UFV Cascades, FC Cincinnati, the Vancouver Whitecaps FC2 and Pacific FC of Victoria, and is now coaching.
When asked to reflect on his time with the Cascades, Village fondly recalls the times between games. For him, these moments resonate.
"Memories like having tea and biscuits after every single training session, all the flights, road trips, and movies watched on buses (mostly between Edmonton and Saskatoon), and all the laughs and nights out after wins," says Village. "I still keep in touch with many teammates, especially the ones that live locally. One of my UFV teammates, Ethan Claibourne-Collins, was a groomsman at my wedding."
He says that the highlight of his career with the Cascades was during his rookie season. They were up against the Trinity Western Spartans, who were riding a championship high from the previous season. The Cascades' fifth-year goalkeeper was injured, and head coach Alan Errington took a chance and put Village in his place.
"Alan looked at me with a smile on his face and said that I was starting," recalls Village.
The game ended in a 0–0 tie, but it felt like a victory.
"I remember giving and receiving hugs from teammates because it felt like a win. I even got a kiss on the forehead from Alan Errington himself," remarks Village. "This was a very special game for me."
Village is now heading into a job with as the goalkeeper coach with the newly formed Vancouver FC of the Canadian Premier League. This new team will play from a Langley home base.
Share This