UFV Chandigarh Announces Top 10 Alumni
Celebrating 10 years in India
UFV Chandigarh has announced its impressive list of Top 10 Alumni.
Coinciding with the 10-year anniversary of UFV in India, the Top 10 were announced by UFV Alumni Chair Nik Venema and Vice-Chair Nav Bains during a recent Chandigarh celebration at the Student Union Building on UFV's Abbotsford campus.
"One year ago, the UFV Alumni Association determined that if we were to see every alum engaged, we would need to discuss how this would work with our brothers and sisters in India," said Venema, who attended 10th anniversary celebrations in Chandigarh earlier this year.
"Today, the UFV Alumni Association is proud to have a deliberate presence in India, led by some of our good friends honoured in this impressive Top 10 selection."
After graduating from UFV Chandigarh's BBA program, Gurneet Singh Anand was a prized hire as UFV Chandigarh's Associate Director, overseeing operations, administration, and university relations while working closely with academic administration and faculty. Having recently earned his MBA from Harvard University, Anand exemplifies alumni excellence.
"The education available at UFV Chandigarh is among the best in India," Anand says.
"As the only Canadian university operating a campus in India, the potential for excellence we provide students is unparalleled."
For more on the Top 10, and UFV's rich history in India, read the 2016 edition of Skookum magazine: blogs.ufv.ca/skookum/.
UFV Chandigarh's Top 10 Alumni include:
Aditya Akre, Manager, External Relations of UFV Chandigarh
Amandeep Singh Anand, Director of Fima Jal Faucets in Chandigarh, and the inaugural chair of the Chandigarh Chapter of our Alumni Chapter
Gurneet Singh Anand, Associate Director of UFV Chandigarh
Kamal Brar, Designated Professional at MNP LLP
Gaganjot Hunjan, Trade and Investment Advisor at the India British Deputy High Commission in Bangalore.
Arvinder Jhutti, Account Manager and Banking Advisor with Royal Bank of Canada.
Shefali Joshi, GVK Group, and a research associate for the Indian School of Business.
Gaurav Khullar, Accounts Payable Specialist with FSM Management Group
Jay Pannu, co-owner of Fine Pixel Photography and Cinematography Studio
Manbeen Riar, Financial Professional and Financial Services Representative at CIBC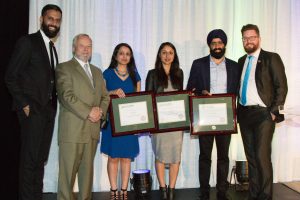 Share This