Welcoming new directors: Michelle Vandepol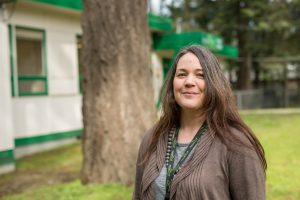 A woman of many talents, Michelle Vandepol (BGS '18) is one of four members who recently joined the UFV Alumni Association's Board of Directors. She was welcomed at the September 27 regular meeting of the board.
Vandepol completed several credentials from UFV and other institutions including a Provincial Instructor's Diploma from Vancouver Community College in 2018, and from UFV a Certificate in Indigenous Studies in 2015, an Associate of Arts degree in 2000, and a Bachelor of General Studies in 2019.
She is also currently nearing completion of her Master of Education from Memorial University, expecting to graduate this fall.
When reflecting on her time with UFV, Vandepol feels that her education helped her to better able to understand the university community.
"It gave me a broad context and knowledge that helped me understand the university's place and responsibility in the Valley," says Vandepol, "and helps me to engage with the community every day."
Since completing her credentials, Vandepol has been actively engaged in her community through volunteer work. She has been a proud member of the Read Right Society, Adult Basic Education Association of BC, the Cyrus Centre, the Main Street Church Society, the UFV Faculty and Staff Association, BC Campus, Fraser Health, and Hope and Area Healthy Communities.
Vandepol spent many years working at the UFV Hope Centre as the sole UFV employee presence at the centre. She was recognized with a UFV Staff Excellence Award in 2019 for her work in ensuring that students at the Hope Centre had all the resources and knowledge they needed to succeed at UFV. She now works with School District #78 Fraser-Cascade as a District School Food Coordinator: work she feels very passionate about.
"I am excited to be a part of supporting so many great school food programs in School District 78. By addressing the whole student experience, we aim to play a meaningful part in students' success," says Vandepol.
The UFV Alumni Association (UFVAA) volunteer board is dedicated to the Association's purpose of "fostering lifelong relationships between alumni and the University and the Fraser Valley through advocacy, support, service and communication".
"We are so pleased to have Michelle's wealth of information, passion for community, and warm, welcoming nature on our Board of Directors," says UFVAA Executive Director Whitney Fordham. "Her genuine care for others and her ability to make people feel seen and valued will contribute to an environment where our alumni feel a deep sense of belonging and pride in their affiliation with UFV".
Welcome Michelle.
Share This