Working from home: the good, the bad and… the unexpected
Remote working tips from the Alumni Association Board
As the world adjusts to a new normal, one of the hottest topics in the workplace right now is remote working. For those lucky enough to have this as an option, the challenges can be deeper than first expected. Sure, the commute is likely better, save for stepping over kitty on the stairs, and being within easy reach of the comforts of home can make those breaks more appealing, but at what cost? Does productivity suffer when working from home? What other challenges lie in wait for first-time telecommuters and how can we best handle these? And let's not forget that all important, so easily overlooked element: self-care.
We reached out to our UFV Alumni Association Board of Directors for their advice on how best to adapt to remote working.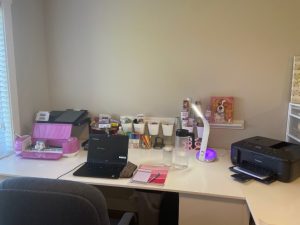 For many, the experience they have of working from home depends on home itself. A designated work space, ideally with a door between it and the rest of the home, can do wonders for focus and productivity, as well as keeping 'work' time separate from 'recreation' time. Rotating between different areas can work for some, including Joe Johnson (BCIS '11), who finds he is able to separate his day-job responsibilities from other computer-based tasks he takes on after work by keeping fluid in where he sets up. For many, it's great practice to separate where you work from where you relax. Lounging with the laptop on your bed, for instance, might not do much to aid relaxation and restfulness later on, nor will it sharpen your business mind during work time. Think spreadsheets, not bed sheets!
However, if separate office space is not available, there's plenty you can do to create an effective working environment. Establishing a routine is crucial. Commit to a schedule and stick to it by starting work and taking breaks at set times, rather than drifting in and out. Emily Henry (Cert. Social Work '05) agrees that scheduling is key.
"Don't work weekends or evenings. If you must, make an agreement with your supervisor for time in lieu and stick to it. Oh, and don't eat at your desk, take breaks!"
Derek Froese (BCIS '13) a long-time home-based worker as an IT consultant, goes one step further. "Create an artificial commute to warm you up in the morning," he suggests. "Go for a walk around your block or a nearby park before starting your day."
As well as getting you mentally awake, structured activity built around your schedule will provide you with all important exercise that you may be losing out on without your regular commute. Kevin Renso (BGS '09) agrees. "You don't realize how many calories you burn or what a work out it is to get up and go to work. Walk! When I first started to work from home — I think I put on 25+ pounds in a few months!  Schedule a jog and get some free weights."
It goes without saying that working remotely brings with it its own security challenges, and these cannot be overstated. Ensuring that your laptop is encrypted is key — just ask your IT department for help with this. A VPN will help protect you over public Wi-Fi access, and also allow you to access all of your office resources (file servers, printers, etc.) from home. Even your smartphone can be configured to receive calls at your regular phone extension. "Ask your IT department if they can set up a VOIP softphone like this for you," Froese advises.
So with the work component largely taken care of, let's talk about the most important element in this: you. Self-care can look very different to each of us — a satisfying workout or yoga class, a brisk walk, perhaps baking bread from scratch like Alumni Board Chair Ali Siemens (BA '13) has been doing, or even retreating into a good book. But whatever your groove, taking care of yourself is crucial. Nutrition and hydration also deserve a place front and centre, with sound advice from Alumni Relations Manager Whitney Fordham (BBA '09), urging us to stay hydrated. "Each morning I fill a 2 litre pitcher with water and bring it upstairs to my home office so that I have water readily available all day, and can track how much I am drinking."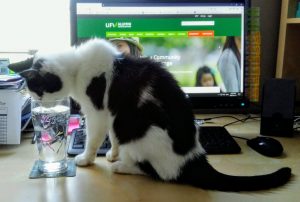 Having access to home comforts and the privacy to set the mood that works for you can also be a big plus. Control over workplace heat and the choice of ambient music are two things Henry enjoys. And what about those new remote working colleagues? Well, they can provide a welcome distraction, or an additional challenge that you might not find in your regular work environment.
With so much focus on business connectivity, don't forget meaningful personal connections. Make time to schedule a virtual catch up with friends, or even go old school and just pick up the phone. Reminding ourselves that we're all in this together can provide the support we didn't know we needed.
Ultimately, whether we chose this situation or not, we will have learned from it. Developing the skills to be productive from a different location, and the associated technological know-how with it, will boost our confidence to be able to adapt to future challenges.
And lastly, one final word of advice from Froese: wear pants. "You will forget and stand-up during a web conference eventually."
Share This