Working together to strengthen UFV and our community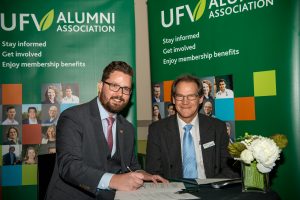 ABBOTSFORD – The UFV Alumni Association and the University of the Fraser Valley have renewed their mutual commitment to work together. This spirit of cooperation was symbolized and celebrated by the signing on a new Memorandum of Understanding following the Alumni Association's annual general meeting on Oct. 12, 2016.
The MOU creates a framework for the working relationship between the UFV Alumni Association and UFV, and sets out the roles and responsibilities of each party.
"UFV is a growing, responsive, and connected part of our community and the UFV Alumni Association is evolving right alongside it and supporting its development," said Nik Venema, UFV Alumni Association Chair. "As the University and the Alumni Association mature, it makes sense to revisit how the two organizations work together. Our organizations will go further together than either could go on its own and it's in this spirit of collaboration that we look confidently to our shared future."
The agreement will remain in place for a period of five years, and may be renewed or extended by the mutual agreement of the parties.
The UFV Alumni Association board directors for 2016/17 are:
Ali Siemens (Associate Vice-Chair), Ashley Hayes, Carlos Vidal, Derek Froese (Associate Vice-Chair), Joe Johnson, Joel Feenstra, Mark Filiatrault, Megan Capp, Melissa Kendzierski, Nav Bains (Vice-Chair), Nik Venema (Chair), Tricia Taylor, Wayne Ortner, and Yoshia Burton. Hayes, Johnson, and Capp are starting their first terms with the association.
Share This