Alumnus Keenan Beavis named to BC Business 30 Under 30 list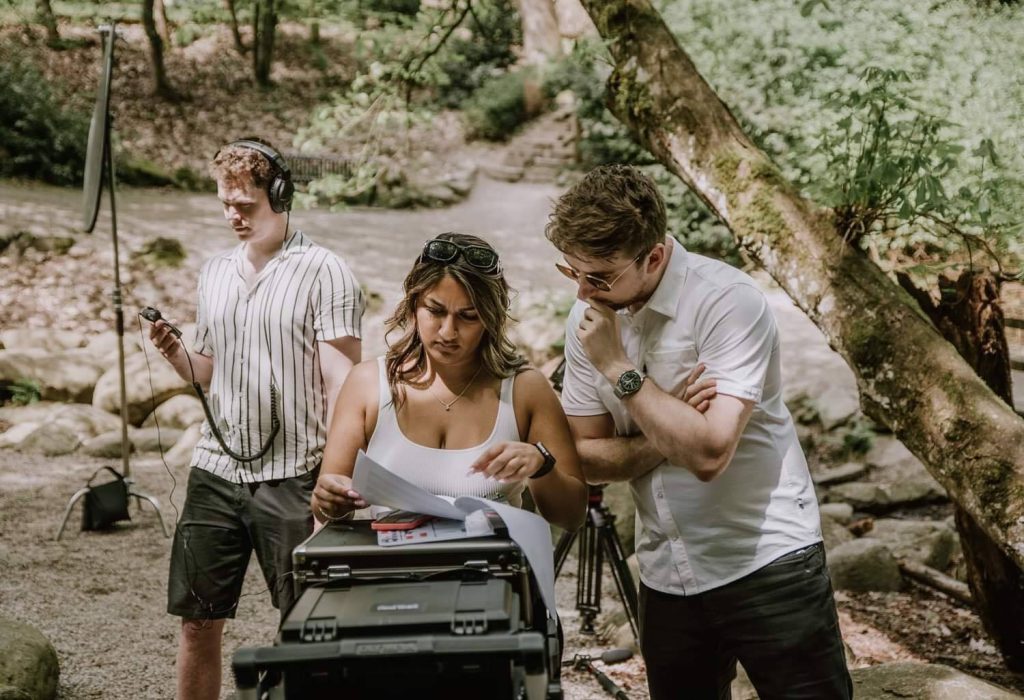 Keenan Beavis (right) and other Longhouse Media staffers on location shooting video.
Keenan Beavis was already going places as an entrepreneur before he hit elementary school. But the Bachelor of Business Administration alumnus (BBA '18) gives credit to his UFV experience for helping him along the way.
Five years out of university, Beavis has been named one of BC Business magazine's 30 Under 30, a list that celebrates young leaders who represent BC's future.
Beavis started his marketing business, Longhouse Media, while still a UFV student. Shortly after, he partnered with fellow UFV alumni Austin Mallar. Now the Langley-based digital marketing agency works with private and public sector clients to enhance their online public profile and grow their revenue.
Longhouse now employs 10 and offers other services within the digital realm, including search engine optimization, digital advertising, web design, graphic design, and branding. Pre-pandemic, the business's income was approximately 40% from video production which plummeted at the peak of COVID to 5%.  The small firm achieved seven-figure annual revenue status recently, and grew by 380 percent during the pandemic, mostly due to adapting quickly  and expanding upon their online services.
The entrepreneurial bug started early for Beavis.
From the age of four, he was going door to door, offering his neighbours bugs he had trapped in a pop bottle, and succeeding on pure charm.
As a teen, he tried — and succeeded at — several online entrepreneurial endeavours. He had his own channel on YouTube in the early 2010s, creating videos that generated over 10 million views. At one point, his was the 27th most viewed Canadian YouTube Channel.
Later he and a friend ran a successful T-shirt design company.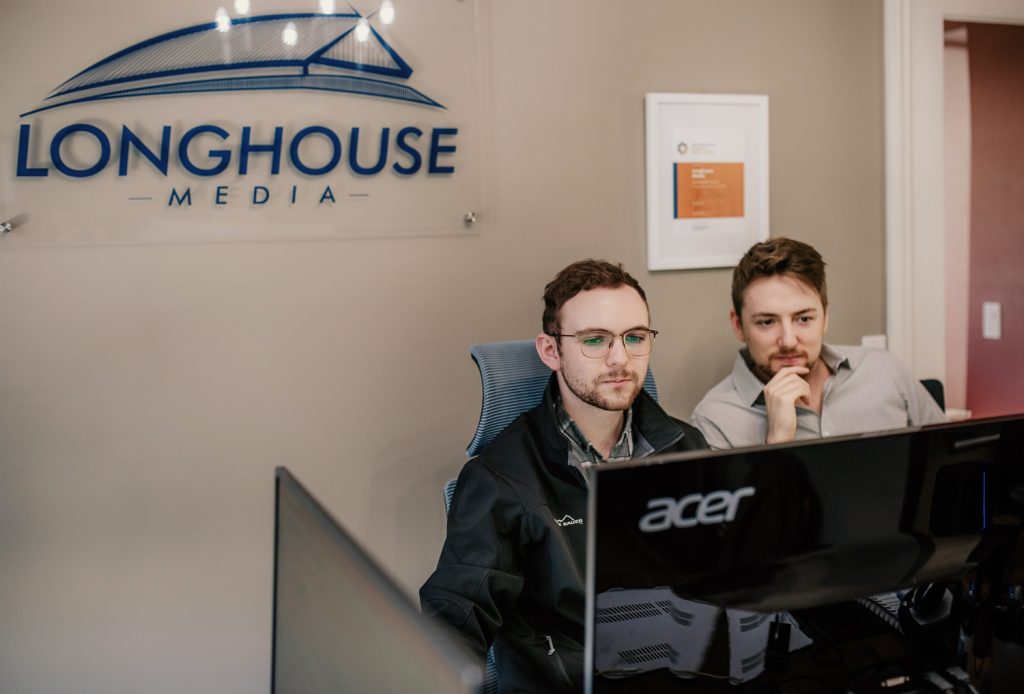 Keenan Beavis (right) and Longhouse media co-founder and fellow UFV alumnus Austin Mallar.
Marketing came naturally to him, so much so that he decided to focus on other aspects of business while taking the Bachelor of Business Administration program at UFV. He ended up majoring in finance and minoring in economics.
"I always loved marketing, but I wanted a bit more of a challenge in my education. Math was never my favourite, but I moved out of my comfort zone and switched to finance and economics."
Focusing on all aspects of business in his studies helped set him up for his future as an entrepreneur in the marketing field.
"My education put me in a good position to understand the language of specialists whose services I use to support my business, such as accountants, lawyers, and human resources consultants," he notes. "I know who is a good specialist and who is not the right fit. It's awesome to be able to interact with my professional specialists with the education behind me to back it up."
He's also grateful to UFV for the connections he made while a student. His firm has done work for student start-ups, alumni who he met while a student, and even some faculty members.
He's particularly proud of working on the successful Langley City Council campaign of his former economics instructor, Mike Solyom.
"When I look at the investment in time and tuition there has been a giant return on investment for me from my time at UFV," he notes. "And I'm only 28, so there's more to come."
He has served on the board of the UFV Alumni Association and recommends that alumni keep in touch with their alma mater.
"UFV is a very supportive community. The more involved you can be, the better. There's no ceiling to the opportunities that could come your way."
Beavis is part of the Métis Nation British Columbia and the Waceya Métis Society in Langley. While at UFV he was involved in the Ch'nook Scholars program.
He named his company Longhouse Media after the traditional gathering place in Indigenous culture.
"I like the symbol of the longhouse," he says. "It's a place where people gathered to work toward common goals and to have fun, both of which are very important to me."
As for being named one of BC Business magazine's 30 Under 30?
"It's very validating," he says. "We work very hard to get results for our business and our partners, and BC Business is one of the most respected business media brands in Canada, so it's great to be recognized."
And the future? Beavis is discovering at a young age that it's more about the journey than the destination.
"I always like a challenge, whether it's at work or school or in my passions such as Brazilian jiu jitsu," he notes. "We've been working so hard at our business, trying to build processes and systems and to solve problems. But then I had an epiphany. There is no end: there will always be new puzzles, clients, and processes. So to be successful and happy, it's important to enjoy the journey."
Keenan looks forward to continuing to grow Longhouse while and is also entertaining the idea of exploring public speaker and training opportunities.
Share This