Art for a Cause
Chantelle Trainor-Matties' artwork goes international and continues to support community organizations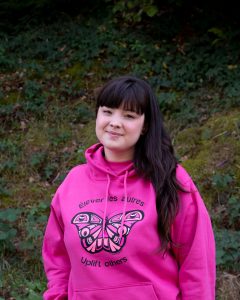 Whether it's recognizing that Every Child Matters, or standing up against bullying, Chantelle Trainor-Matties believes in using her artistic talent to support causes close to her heart. And this year is no different. She has once more partnered with Leading Edge Promo for Pink Shirt Day on February 22.  This year's design: a butterfly.
Chantelle Trainor-Matties (Dip Visual Arts '20) is the owner of Frettchan studios, which she started in 2020.
"I created the name Frettchan Studios back in 2016 for my social media and knew that I wanted to continue using it when I registered my business," says Trainor-Matties.
When Trainor-Matties came to UFV to complete a diploma in Visual Arts, she did so to refine her artwork, a passion she traces back to her youth.
"It has been one of my constants and my art unintentionally documents my life in a way," says Trainor-Mattes. "My loves and my interests, my style development, what I've experienced or learned — it's all reflected in my art. It's neat to go back and look at who I was in each of my periods."
For most of her life art was just a hobby. It's only since opening Frettchan Studios that she has been able to turn it into a career.
"I've learned a lot over the years," says Trainor-Matties. "I've had to put on a lot of different hats as I'm my own boss, my own marketing team, my own accountant, and then there is the art. So, over the years I've learned how to set rates and be confident in what I charge for my goods and services. As my business grows, I'm constantly learning about business taxes, which isn't something that was covered in my schooling, so it's a lot of learn as you go."
However, the hard work she has put in so far has greatly paid off.
Just last year, she took part in the Chilliwack Mural Festival painting a piece called Hats'al̓t, depicting an octopus, and she was commissioned to paint a Thunderbird mural at John MacLure Community Elementary, which she attended as a child.
"This was very exciting for me as John MacLure Community School holds a special place in my heart. It's my old stomping grounds. I loved how excited the children were about the mural and it was nostalgic hearing children playing while I was painting," she says.
Her work also went international in 2022, when she was commissioned to design a 100-foot-long mural for the French Quarter of New Orleans.
"The project as put together by the Consulate General of Canada, the Office of New Orleans through Mayor Latoya Cantrell and the Arts Council of New Orleans," says Trainor-Matties. "I did the design work, and it was then painted by Louisiana artist JoLean Barkley. I was then flown out for the ribbon cutting and unveiling ceremony! It was a great honour and something I'm unsure I will ever experience again so I really tried to live in the moment through it all."
She enjoys the work of creating murals.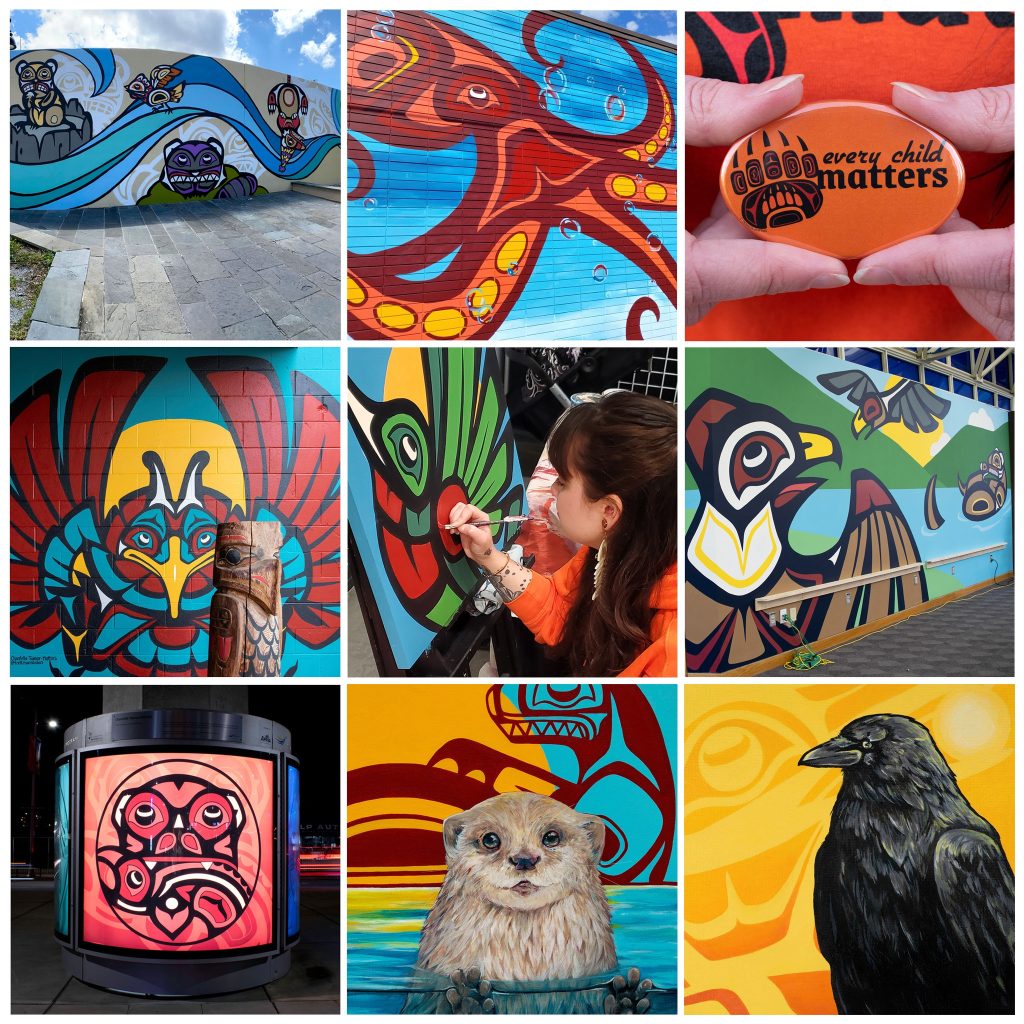 "When I sit back and really think about that it blows my mind that I am able to share my artwork with that big of an audience," she explains. "I'm humbled that people enjoy my work as much as they do. Murals bring colour to a city and people's daily lives, I'm so happy to be a part of that. Hoping to paint in as many cities as possible!"
As an indigenous artist with a Nisga'a-Metis heritage, her work is often in the style of "contemporary Northwest Coast Formline". This recognizable style now graces our local city streets. But Trainor-Matties has also been putting her art to use in supporting organizations during key annual events.
She recently designed shirts for Orange Shirt Day, red shirts for Red Dress Day, and recently released a new design for Pink Shirt Day.
"All the campaigns I take part of are about issues that are ongoing," she says. "It's not just a day to put on a pink shirt, orange shirt or red shirt and then fold it up and forget about it. Revisiting issues is how we can continue to raise awareness and funds to support those affected."
Purchasing a pink shirt with her design from Leading Edge Promo supports the Urban Native Youth Association and the Urban Society for Aboriginal Youth in Calgary. Last year, they were able to raise over $44,000 for the organizations to share.
"I think being able to use my artwork to raise thousands of dollars for organizations that support Indigenous youth, families of the missing and murdered Indigenous women, girls and two-spirit people, as well as families and survivors of the Residential school system, is something I'm so proud to be a part of and one of the ways my art has had the biggest social impact," says Trainor-Matties.
In fact, her pink shirt design is available at the UFV Bookstore right now.
As for the future, Trainor-Matties hopes to continue the journey she is on, and expand, adding an online store to her digital portfolio at frettchanstudios.ca.
Share This