Autumn Jenkinson posthumously named UFV's Distinguished Alumni (2009)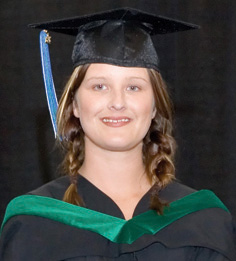 The following article was originally published in UFV's Aluminations magazine, Fall 2009 edition.
If you were lucky enough to meet Autumn Jenkinson, you knew she was the type of person who was going to change the world. And during her short life, she certainly did her best to improve the quality of life for many people.
Tragically, Autumn died in May 2007 in a motorcycle accident — leaving many to wonder how much more she might have accomplished if circumstances could have been different. Still today, more than two years after her death, she is fondly talked about at the University of the Fraser Valley, where she was a popular and remarkable student. Recently, Autumn posthumously received UFV's Distinguished Alumni award — an honour reserved for graduates who have made outstanding contributions in their careers, or to their communities. Autumn did both.
Autumn, a single mother, stood out from the crowd the moment she started her studies at UFV. In 2003, she earned her Social Services diploma and was presented with an award for outstanding achievement. In 2005, she received her Bachelor of Social Work degree from UFV. She was on the Dean's list for her top-level grades and again she won the outstanding student award, this time in the degree program.
Autumn wasn't just an A student; she was as also popular with her peers and fellow students. At UFV, she worked tirelessly with other students and faculty to secure a seven-year accreditation of the BSW program and she was also named the national student representative on the Canadian Association of Schools of Social Work. When her term was up in 2004, she became the first student ever to be selected for a second term with the CASSW. She was also the student representative on the B.C. Association of Social Workers' child welfare and family committee.
Christina Rodrigues, Fraser River branch representative on the BCASW, says people still miss Autumn's active involvement and leadership on the board; her contributions and ideas were published in three major social work reports, and several initiatives adopted by the board can be attributed to Autumn's input.
"Autumn was instrumental in organizing a community development project that increased awareness about youth homelessness and raising funds for the Fraser Valley Youth Shelter," says Rodrigues. "Not only was her loss difficult for family and friends to comprehend, but her passing sent shock waves across the social work community locally, provincially, and nationally."
Rodrigues points out that when she died, Autumn was close to completing her master's degree in Social Work at UBC and was already a valuable employee with the Ministry of Children and Families' youth team. She had also become a sessional instructor at UFV and was teaching a course with her father Paul, also a social worker, who was participating as guest lecturer at UFV that spring.
"She was a wonderful example of an excellent student and it was great to see her putting the knowledge that she learned at UFV to good use," says her dad. "This award is such an honour to her, but it's also an honour to the university because it equipped her to do so well in her career."
Karl Olfert, her team leader with MCF, says Autumn made a tremendous impact not only to her clients, but also to her colleagues and the community.
"Autumn was bright, self-confident, articulate, and opinionated," Olfert says in his letter of nomination for the Distinguished Alumni award. "In some people, that can be a dangerous mix. But Autumn was also humble, eager to engage in conversation, honest, and utterly devoid of any guile or malice. She had a strong set of ethics and values and they were an integral part of who she was and they infused everything that she did and said."
To recognize Autumn's contributions to the community, and to honour a woman so many people loved, the Ministry's program to provide supported independent living for teens in Abbotsford has been named Autumn House.
UFV instructor Adrienne Chan nominated Autumn for the award because she exemplified excellence, citizenship, and commitment to learning and professionalism.
"She was personable, articulate, and a conscientious student and practitioner," says Chan. "Autumn was one of the finest all-around students ever to graduate from the BSW program and she set an example to her peers and for future students. We miss her, but her spirit lives on."
Her mother and father, who now have custody of Autumn's daughter, have recently moved from the Fraser Valley. Her father Paul, however, came back for UFV's awards night in September when the Distinguished Alumni award was presented to him in Autumn's honour.
"We greatly appreciate the university and the efforts it has taken to remember Autumn Joy," says Paul. "It is an honour to have her remembered this way and it is so very much appreciated."
Share This