Curating a new generation of critical thinkers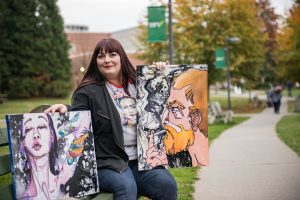 Inspired by 30 kids and sometimes smeared by her squeegee or fork, the paintings created by UFV's 2016 Young Distinguished Alumni Award winner Shannon Thiesen make their mark in more ways than one.
She was the very last student to join her UFV Teacher Education cohort – accepted only two days before classes began. Now she's the program's first graduate (2011) to win UFV's YDAA.
Thiesen started with journalism at Carleton University before settling into a major in English literature with minors in law and women's studies. From there she jetted to Japan, teaching private-school English.
She credits UFV instructors for inspiring her to become a great teacher for her own students at the Abbotsford School of Integrated Arts North Poplar campus, teaching a Grade 4-5 split class.
Thiesen recently flew to New York City with a colleague to help an underprivileged school though a program called Sing For Hope where she transformed a piano to look like a moose.
A live art veteran, she won Art Battles in Chilliwack and Abbotsford before being crowned the B.C. champ in Vancouver and then competing at the national championships in Toronto. Her pieces are in even higher demand after winning a Fraser Valley Arty Award in Visual Arts this year.
Accolades are gratifying, but at the end of the day it's all about her kids.
"We're creating these 21st century learners; the majority of their jobs that we're trying to get them ready for haven't been invented yet. So what we're really trying to get kids ready for is how to be creative, how to think critically, how to work as a team, and how to connect with our community."
Share This