Deep roots — the Crabtree connection carries back to UFV's earliest days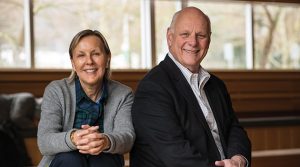 There are not many people whose connection to UFV goes back as far as Tom Crabtree's. And that long-time connection has led to new support in the form of bursaries for UFV students.
The Honourable Mr. Justice Thomas Crabtree, as he is formally known, was appointed to the Supreme Court of British Columbia in May of 2018. Prior to this appointment, he served an eight-year term as the Chief Judge of the Provincial Court of British Columbia. Before that he served as a provincial court judge since 1999 and as a lawyer in private practice since 1984.
His accomplishments in the Chief Justice role included working with communities around the province to support the development of five new Indigenous sentencing courts. But 45 years ago Tom was a teenager watching his father and other community members lobby for post-secondary education for the Fraser Valley.
He can remember Dr. Larry Blake, UFV's first principal (as the president was called in those days) sitting at his parents' dining room table talking about post-secondary education and his hopes and plans for the then brand-new Fraser Valley College (FVC).
Tom's late father, Dr. Norm Crabtree, was a well-known Chilliwack dentist, school board chair, and the very first board vice-chair of the college. The connection goes back even farther than that.
Before the FVC was founded in 1974, Norm campaigned and planned for years as a member of coalitions and task forces that lobbied for the college's creation. His activity and support dates back to the late 1960s.
And although Tom's not an alumnus himself, three of his four sisters ­— Mary Ann, Jean, and Chris — all attended FVC in the early days.
Flash forward to the late 1980s and you find another connection to UFV. Brenda Crabtree, Tom's wife, decided she wanted a career switch after working as a practical nurse while supporting Tom through law school.
She started taking liberal arts classes at night, eventually earning a two-year Academic Studies diploma before transferring to Western Washington University to complete her BA and MA in cultural anthropology.
"There was a great selection of night classes at the college and it worked out very well for us," she recalls. "Tom would come home and take over the child care and I would head out to class."
Although the setting wasn't glamorous — some of those classes were in portables located adjacent to the old "motel" building on the Chilliwack campus on Yale Road — Brenda says her education was outstanding, citing Dave Allen (English), Alan Cameron (Languages) and Henry Speer (Biology) as particularly inspiring.
"They were real task masters! And once I got to third year at Western Washington, I was prepared to excel at any assignment involving writing because of the foundation I got from them."
Brenda's passion for cultural anthropology was inspired in part by her Indigenous heritage. She's a member of the Spuzzum band, and has both Nlaka'pamux and Stó:lō ancestry. She was grateful for the support offered to Indigenous students."Even in those early days the college had good support for Indigenous students. Theresa Neel and Leslie Williams were very helpful to me."
Brenda worked at the Xá:ytem cultural site in Hatzic for a few years before becoming director of Aboriginal programs at Emily Carr University of Art and Design, where she has worked since 1999.
And she's an artist in her own right, having learned basket making from her grandmother, Matilda Borden. Her weaving focuses on using traditional fibers such as inner cedar bark, cedar roots, spruce roots, and wool.
Tom has an ongoing connection to UFV that has included activities such as teaching business law, leading ElderCollege workshops, and speaking at seminars for students in the Human Services Career program, a mentorship partnership between UFV, Chilliwack Secondary, and community agencies.
And the family tie to UFV continued into a third generation. Tom and Brenda's daughter Katelyn studied here.
All those connections have inspired the Crabtrees to support UFV students through the creation of two new bursaries.
The Crabtree Family Endowment Bursary funds two $1,000 bursaries each year in perpetuity. They are intended for Indigenous students, but if no eligible applications are received, they will be available to non-Indigenous students.
"We have been very fortunate in life, and our parents instilled in us the strong sense that it's important to give back," says Tom.
"Education creates wonderful opportunities for people that can have a great leveling effect in society. My father served in civil defence in World War II, and didn't go to university until his late 20s, and when he did go he really valued and appreciated the opportunity to further his education. Ultimately his pursuit of education and the opportunities it provided was the reason we immigrated to Chilliwack in the late 1950s."
Tom's mother Margaret also attended university and was a member of Chilliwack's University Women's Club, which funded scholarships for UFV students.
The Crabtrees chose to establish their awards as bursaries in order to help those in the most need.
"We wanted to create opportunities for those who would have a hard time attending," Tom notes.
Visiting the Chilliwack campus recently, Tom reminisced about how far UFV has come since its humble beginnings.
"What my dad and many others believed in was access to education in our own community, so that students could keep their costs low, and have the moral support and backing of family and friends. Now look at the amazing facilities we have and the excellent professors. They would be very happy to see it."
If you'd like to support UFV students, please visit giving.ufv.ca.
Share This